Some 911 response will come from nurses, not fire and ambulances
Posted:
Updated: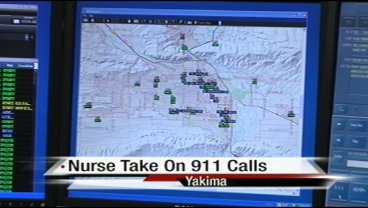 YAKIMA, Wash- Starting January 1, 2012, when you call 911 for medical help in Yakima County dispatchers may not send an ambulance.
The Yakima County 911 call center gets about 300 calls a day. They estimate one third of those are for some sort of medical help. Currently 911 call takers are trained to ask questions, trying to determine if someone actually needs medical attention. If they do...
"People are rolling, EMS, fire departments, whoever", says Yakima County Commissioner Rand Elliot.
They must respond to everything from a heart attack to a sprained ankle. That may seem excessive and in some cases it is. That's why the county commissioners have signed a contract to have nurses handle the more minor 911 calls.
"Where emergency services are not immediately needed and its those calls at the very bottom that apply to the nurses line", says Wayne Watland director of the 911 Call Center.
It costs tax payers and average of $160 every time a fire truck responds to a medical call.
"If that person could have been referred to a nurse and they say "put an ice bag on it", those people don't make the run", reasons Elliot.
Under the new system, the 911 call taker will ask their normal round of questions and determine if the person needs fire and ambulance.
If not they'll transfer to a nursing call center making less work for 911 dispatchers and of course city and county firefighters. Even departments like Yakima Fire that are already staffed 24/7 could benefit.
"It frees up resources for those that in need or have an emergency that is more significant we can respond to those that are in desperate need of medical services or fire", says Yakima Fire Department Captain Brandon Dorenbush.
The county estimates that up to eight percent of 911 service calls could be handled by the nursing call center, that would save $87 thousand dollars a year.