Tri-City Beats Spokane, 2-1, to Avoid Sweep
Posted:
Updated: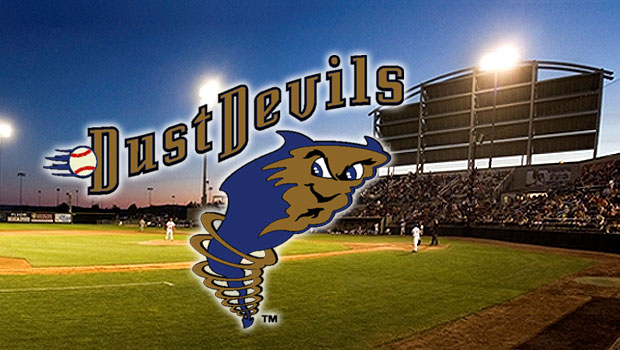 PASCO, Wash. -- Tuesday night was Beach Night at Gesa Stadium, but the Tri-City Dust Devils didn't give themselves much time to lie back and relax. Jared Simon broke a 1-1 tie in the bottom of the seventh inning with a RBI base hit to center and reliever Craig Bennigson retired all ten batters he faced as Tri-City did just enough to stay afloat and avoid a sweep, beating the Spokane Indians, 2-1, in front of the 1,535 fans in attendance.
In the first two games of the series, the Indians had all but kicked sand in the Dust Devils' faces, outscoring them 9-1. Tuesday night, Tri-City took their first lead of the series in the third inning when Tyler Massey extended his hit-streak to 12 games with an RBI-single to right field off Spokane starter Nick Martinez. The 1-0 lead was quickly washed away on Spokane infielder Rougned Odor's scoring fly ball to center field in the fifth inning.
Neither starting pitcher factored into the decision. Dust Devils right-hander Chris Jensen hit rough waters in the fifth when Odor hit his scoring fly ball. Jensen was pulled immediately after, going 4 2/3 and allowing four walks but just two hits. Martinez threw only four innings allowing one run on five hits.
In the fifth inning, the game became a battle of the bullpens and the Tri-City bullpen, badly burned in last night's game, stood tall. Bennigson (3-3) picked up the win, throwing a perfect 3 1/3 innings while striking out four and closer Ken Roberts pitched a scoreless ninth to record his team-leading tenth save of the season.
Simon's game-winning hit came off of Spokane left-hander Juan Grullon (5-1) who suffered his first loss of the season. Massey had led off the inning with his second hit of the night and took second on a wild pitch before surfing home on Simon's line drive to center field. First baseman Jordan Ribera went hitless again tonight and has now gone 0-for-33 since returning from the disabled list. The hitless streak has drowned his batting average from .320 to .243.
Tri-City finished their second-to-last home stand of the season with a 4-2 record and now head north of the border to face the Vancouver Canadians for five games. Right-hander Christian Bergman will start the first game of the series tomorrow night. The Dust Devils will return home on August 30 to face the Salem-Keizer Volcanoes for their final five regular season home games.