Sunnyside PD finds 40lbs of pot during a warrant arrest
Posted:
Updated: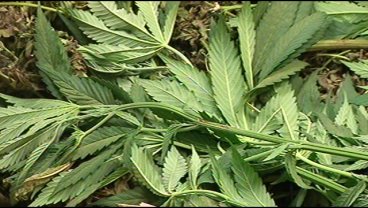 SUNNYSIDE, Wash.-- Officers with the Sunnyside Police Dept arrested 2 suspects when they found 40 pounds of marijuana in a home.
One of the suspects is only 16-years-old, and a known gang member. The other is 19 and they both face charges in connection with the marijuana grow.
Sunnyside Police say they see a lot of young kids getting started in gangs early on.
"You wouldn't expect someone that young just to grow 40lbs of marijuana," said Omar Balverde of Sunnyside.
That's the reaction most people gave when they heard about the bust.
Sunnyside police officers say they just happened across the marijuana while they were searching for the teen on a parole violation.
"Located the juvenile inside the residence and also found around 136 grams of marijuana inside his room," said Ofc. TJ Orth of the Sunnyside Police Dept.
They also found an additional 40 pounds of marijuana in another room that was being processed for sale, along with that, a sawed off shotgun.

Officers see kids in gangs younger and younger and a 16-year-old is not that uncommon anymore.
"Around the area, a lot of them start out pretty young and they start moving from the graffiti, into the drug trade and from there they start collecting firearms and getting into burglaries and other additional crimes," said Ofc. Orth.
"If you don't go to school, it's easy money so that's what they rather do instead of just being in school and just being at a minimum wage job," said Balverde.
Police say getting these drugs off the street is a step in the right direction.
"It makes a big dent in the gangs organization. It slows their drugs down and lets them realize that we're out there we're looking for them," Ofc. Orth said.
Because of the 16-year-old's criminal history, prosecutors may try him as an adult.