Death of 1-year-old Richland boy ruled homicide
Posted:
Updated: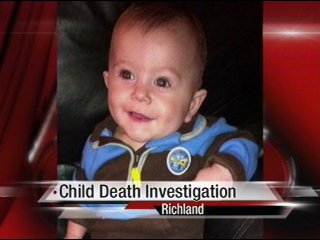 KENNEWICK, Wash. -- The Benton County Coroner rules the death of a 1-year-old Richland boy a homicide.
Benton County Coroner John Hansens says Ryder Morrison died on June 22nd from "abusive head trauma." His family says he was being watched by a baby-sitter at the time. Hansens says the autopsy showed the boy suffered fatal injuries to his head, but he also had other injuries in areas of his body. When the injuries took place is still under investigation.
"Those injuries are one of the things being discussed with the pediatric specialist and with the University of Washington. The questions that they're trying to answer is to what extent are those injuries and if they can determine a time period for those injuries," says Hansens
The doctor who performed the autopsy will issue a final report in a few days, hoping to have more of a time frame.
Hansens says the case took a long time because it involved pediatric specialists and other doctors from the University of Washington. Toxicology reports show no signs of drugs or alcohol.
The Richland Police Department is still investigating. Captain Mike Cobb says there are no suspects at the time, and the new death certificate findings are not affecting their investigation.
"When did it happen? Where did that happen? Who is responsible? A lot of those answers remain unanswered," says Cobb.