100 tons of Water Stargrass plucked from Yakima River
Posted:
Updated: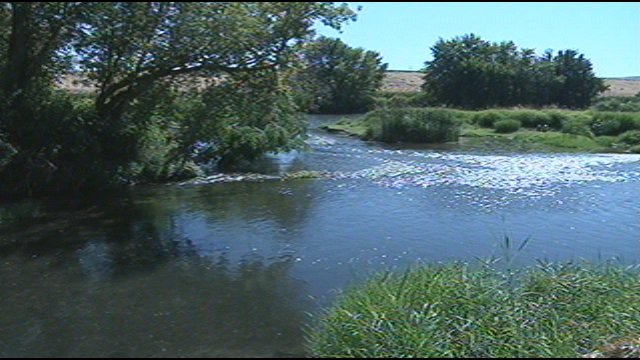 BENTON CITY, Wash.-- The Benton Conservation District and volunteers have removed more than 100 tons of Water Stargrass from the Yakima River. Two years ago, they started hand plucking the aquatic plant out of the river. Water stargrass is actually a native plant, but has grown out of control and caused problems for humans and fish. The plant is clogging irrigation screens, making it hard for people to enjoy the river, and choking out fish habitats.
Rachel Little, Fish Biologist for the Benton Conservation District, says they've cleared the grass out of nearly two acres of the river as a pilot project. She explains, "Instead of seeing that thick green carpet of plants, we can actually see gravel in the bottom of the river." She says they've also seen Chinook Salmon returning, making nests, and ready to spawn.
Little says at first, they weren't sure what to do with the pesky plant. "We just stockpiled it, and over time, we found it dries up, shrinks, and composts down to just a fraction of its original volume."
Dale Harkins owns the property the Conservation District has been working on, and, after seeing the shrunken pile, he had an idea: compost. Harkins is actually a hobby farmer. He says "It's (water stargrass) an aquatic plant and, as it breaks down, it has the nutrients that it captured in the river, so, therefore, it's very rich soil." It also holds water well.
Harkins did an experiment with two apple trees he planted this year. On one, he used the water stargass compost. On the other, he used nothing. The composted tree is full of leaves and already has an apple on its branches. The other has few leaves, and no apples. While it isn't scientific proof, Harkins thinks it's promising.
Harkins also used it on his newly planted lawn, and he says he's never seen it grow so fast. Next year, he hopes to used water stargrass compost in his small hay field.
"We've taken a problem and turned it into a benefit," explains Little.