Memorial nurses to picket hospital Tuesday, public asked to attend
Posted:
Updated: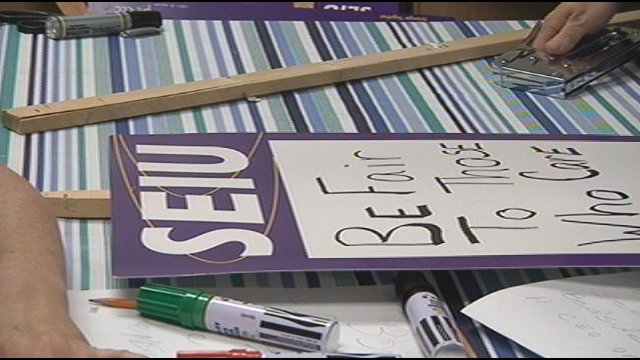 YAKIMA, Wash- You've seen the purple signs all over town. It seems there's one on every block, Memorial nurses aren't happy about their new contract.
"There are three sticking points, one is wages, one is pension, and one is union security", says Trish Bowman.
Bowman has been a registered nurse at Yakima Valley Memorial Hospital for 28 years. She and the nursing union say it was insulting when the hospital walked away from contract negotiations with no warning.
"they just did what they wanted basically, and we would like a say in that", alleges Bowman.
The nurses union wants a 2% pay raise for every year of the contract and to stick with their defined benefits plan instead of switching to a 401k.
They've pointed to CEO Rick Linneweh's $3 million paycheck in 2008 as an argument against their current wage freeze. They're also asking for mandatory union membership for nurses.
Memorial Hospital declined to do an on-camera interview. Late Monday afternoon they sent this statement:
"Memorial negotiated in good faith with the nursing union for over nine months. However, the remaining proposals from SEIU were directly linked to mandatory union membership for all Memorial Registered Nurses (RNs). Currently, Memorial is one of the only hospitals in the state that makes union membership voluntary and only half of our RNs have chosen to join the union. This is a choice the Memorial Board of Trustees respects for them to make for themselves. Currently any nurse can choose to join –or not join—the union. We feel it's imperative to leave this decision up to them.
The impartial federal mediator, with knowledge of the terms of negotiation, believed that continuing discussions with the union would not be productive. Based on his recommendation, we took his recommendation to move away from the table.
Memorial is known to offer very competitive benefits and wages—which is how we have been able to attract and retain such a highly trained and competent staff. We would like to move past this issue and put our focus back on where it should be—taking care of the health care needs of our patients."
Statement from Memorial Nurse's Union:
Nurses at Yakima Valley Memorial Hospital will rally Tuesday during an informational picket at the hospital over unfair labor practices, implementation of pension and wage freezes, and the hospital's refusal to return to the bargaining table.
"It's time for the hospital to get back to the bargaining table. As nurses, our first priority continues to be settling a fair contract so we can focus on our patients. We need a contract that respects the work we do caring for the community. Instead, we've seen CEO Rick Linneweh continue to make an outrageous salary while our wages and pensions are frozen," said Allen Bell, a PACU RN at the hospital.
Linneweh made $3 million in one year, according to the most recent publicly available IRS 990 financial reports from the hospital.
Linneweh and the hospital Board of Commissioners have implemented wage and salary freeze for nurses, effective July 1, a move that the nurses allege is illegal because it was not bargained with the nurses. An unfair labor practice charge has been filed with the National Labor Relations Board.
Nurses have offered multiple bargaining dates to the hospital. Administration at the hospital hasn't confirmed dates or return to the bargaining table.
The nurses will picket before and after shifts, and during their breaks. A community rally is scheduled for 5 pm on Tuesday, August 30 outside of the hospital.
Who: Nurses, family members and community supporters
What: Informational picket outside of Yakima Valley Memorial Hospital
When: Tuesday, Aug. 30 outside Yakima Valley Memorial Hospital, 2811 Tieton Drive, Yakima. Rally at 5 pm.
Visual: Nurses, family members, and community leaders will be chanting outside of the hospital with picket signs and banners.