Neighbors say semi trucks too big for local roads
Posted:
Updated: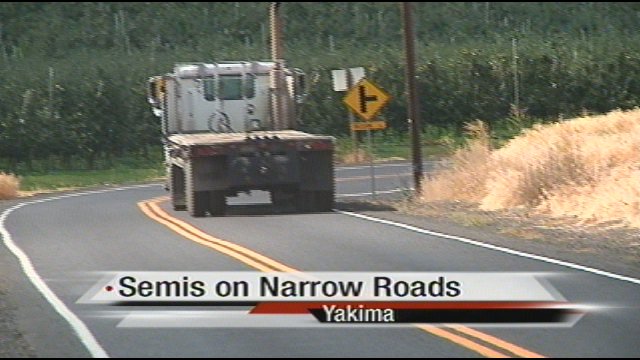 YAKIMA, Wash.-- Sharing the road with semi trucks can be uncomfortable. They're large and intimidating, and you certainly wouldn't want to be hit by one. However, some people living between Naches and Yakima are even more nervous about large trucks on their road.
"The road wasn't designed for semis... is what it comes down to," says Homeowner Bill O'Hare.
O'Hare and another neighbor say the roads are too narrow for semi trucks. They say new packing houses in the area have increased traffic in recent years, and the roads can't handle it.
"These roads are so windy and curvy out there, to be honest with you, the semis almost have to go across the center line in order to make it around some of the curves," O'Hare explained.
O'Hare says many accidents happen on the roads here, one occurred just yesterday on South Naches Road. One woman told us she was rounding a corner and was almost knocked through the guardrail by another car. However, she doesn't think the road is to blame, and Yakima County agrees.
"I think what we have is people driving too fast for the curves and going over the lanes, but I don't think it's unsafe other than excess speed," explains County Engineering Surfaces Manager Mark Brzoska.
Brzoska says the roads he looked at in the area are the proper width, and that semis shouldn't have a problem turning in their lanes.
"If a trucks traveling at about 25 miles an hour... Should easily stay in the travel lane," Brzoska says.
As we were driving these roads we did see a semi cross the center lane while taking a turn. Brzoska says ideally the lanes would be a foot wider, but that the current width shouldn't make that much of a difference.