Three Dust Devils Receive Postseason Honors
Posted:
Updated: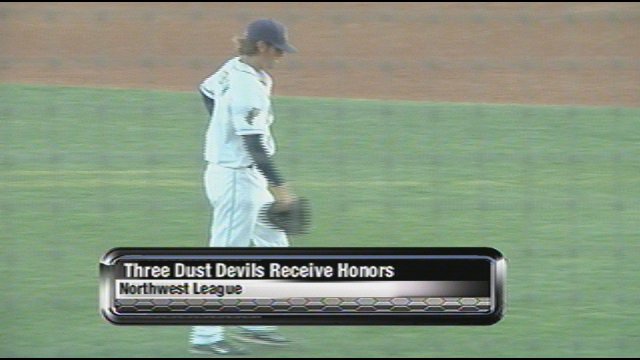 Kennewick, WA--- Tri-City Dust Devils manager Freddie Ocasio was named the 2011 Northwest League Manager of the Year and two of his pitchers, Christian Bergman and Ken Roberts, were selected to the NWL Postseason All-Star Team.
Ocasio, in his sixth season at the helm of the Dust Devils, led his team to a first half Eastern Division championship and the second best overall record in the league, 41-31, through 72 games this season. He will lead Tri-City to the postseason this year for the third time in his career.
"It's a great feeling but it's all about the players," said Ocasio. "When you have good players, you win games and have a lot of fun. That's why you get this award."
The Manager of the Year award is the second of Ocasio's NWL career. The longest tenured manager in the NWL received the honor in 2009 when he led the Dust Devils to an Eastern Division championship and a league-best 47-29 record.
Christian Bergman (7-5, 2.59) was one of two right-handed starters named to the Postseason All-Star Team. The second-year pro out of UC Irvine was the Dust Devils' Opening Day starter and is tied for the league lead in wins. Bergman set a Tri-City record, throwing two complete game shutouts this season and fell one inning shy of tying the NWL's all-time consecutive scoreless inning mark of 32.
Bergman is ranked second in the league in ERA, fourth in strikeouts, second in WHIP, and his 97 1/3 innings pitched this season is tops in the league by 16 innings.
Ken Roberts (3-2, 1.98), the only left-handed reliever to receive All-Star honors, has spent most of the season as the Dust Devils' closer. The Tennessee native is a perfect ten-for-ten in save opportunities and has appeared in 25 games out of the bullpen, most of any Tri-City reliever. Opponents are batting a minuscule .192 against the lefty and his ten saves are third in the NWL.
Bergman and Roberts, who were teammates with the Casper Ghosts in the Pioneer League last summer, have helped lead a Tri-City pitching staff that ranks first in the NWL with a 3.10 ERA.
The Dust Devils will conclude the regular season with four games at Gesa Stadium against the Salem-Keizer Volcanoes before beginning the playoffs. Game one of the Eastern Division Series is scheduled for Monday, September 5 and will be played on the road. Game two (and three if necessary) will be played September 6-7 at Gesa Stadium.