Ellensburg Rodeo gives big boost for local economy
Posted:
Updated: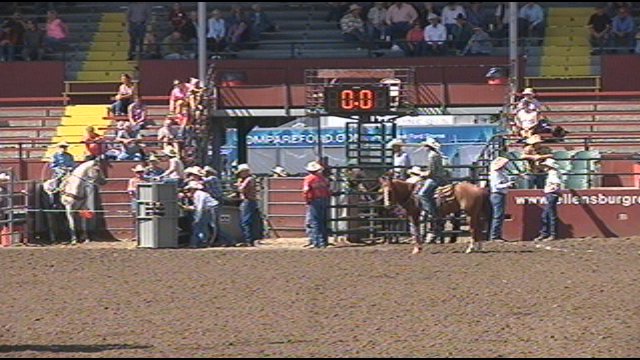 ELLENSBURG, Wash.-- It's one of the biggest rodeos in the country, drawing people from across the U.S. to Ellensburg. And it starts Friday!
The Ellensburg Rodeo is going on this weekend. And not only is it a lot of fun, but businesses we talked to say it gives them a big boost.
"It's going to be a ton of fun, a lot of excitement and this is going to be an Ellensburg Rodeo to remember," said JJ Harrison, this year's Rodeo Clown.
The rodeo brings in an estimated 40,000 people during the long Labor Day weekend, doubling the cities usual population.

And paired with the Kittitas County Fair, organizers are saying it's going to be a big year.
"Ellensburg's one of those rodeo's where the entire town gets behind it. This entire city is about rodeo this weekend and it's a tremendous feeling. It's the old west coming to life and I mean it's going to be a ton of fun," said Harrison.
Started in 1923, this is the 89th year of the rodeo, and it continues to bring in big dollars for the city.
"When it's sunny like this weekend, spectacular. So, it's so busy on a typical day we park in the parking lot, you wont see my car near the parking lot," said Jim Rowe, owner of Wing Central's Roadhouse Grill.
Local businesses say this weekend generates so much revenue, that it looks like a 13th month in their books. Organizers told me it brings in $3 to $4 million to the area.

But they say it's not only good for businesses but it's something the community is proud of.
"It's a huge pride factor for all the folks in the community. It really helps us, in addition to Central, it helps keep Ellensburg on the map," said Brian Twardoski, one of the event organizers.
The rodeo runs all weekend long on the Fairgrounds in Ellensburg, and with 560 competitors, there's definitely something for everyone.
"This is an energy that you want to be a part of. It's an atmosphere that you want to come down, if you want to play cowboy for the weekend, now's the time! Gitty-up, get down here. We need you here," Harrison said.