Gagnon Blocks the Volcanoes' Flow
Posted:
Updated: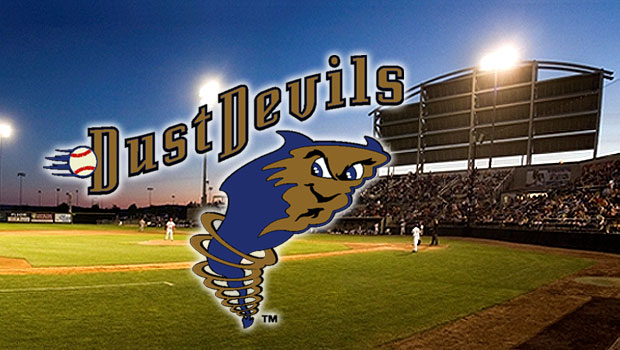 Pasco, WA--- The Tri-City Dust Devils started a new month with what looked like a new offense. In the first three innings, Tri-City batters hit four extra base hits and scored four runs. The outburst proved to be plenty for starting pitcher Tyler Gagnon, who gave up just one run on two hits over six innings in a 7-2 win over the Salem-Keizer Volcanoes in front of 2,102 fans at Gesa Stadium Thursday night.
Down 1-0 after the first inning, Tri-City outfielder Jared Simon's single to start the second inning was followed by a Jordan Ribera double off the right field wall. A Jayson Langfels fly ball scored Simon and catcher Richard Pirkle doubled later in the inning to score Ribera and give Tri-City the lead.
In the third inning, Dust Devils shortstop Taylor Featherston tripled to score Leo Reyes, who had led off the inning with a double. Tyler Massey, who was in the lineup as the designated hitter, singled past the Volcanoes' drawn-in infield to drive in Featherston and put Tri-City up, 4-1. Featherston and Reyes each went 3-for-5 with an extra base hit in the game. Pirkle went 2-for-4 and reached base three times.
With a three run lead, it became all about Gagnon (4-3) and the Dust Devils' pitching staff. Gagnon, who allowed a season-high ten runs against the Volcanoes back in July, allowed just one base runner to reach base after the second inning and finished his night without walking a single batter. Relievers Craig Bennigson, Nelson Gonzalez, and Ken Roberts each threw an inning to finish the game. Bennigson allowed one run in the seventh.
Tri-City bounced back after finishing the month of August with a 14-15 record. The Dust Devils' offense batted only .230 for the month and was shut out four times. The team batted over .260 in both June and July.
Volcanoes starter Jack Snodgrass (4-1) picked up his first loss of the season, allowing four runs on six hits in only three innings. In his three previous starts, the lefty had been 2-0 with a 0.56 ERA. Salem-Keizer centerfielder Jesus Galindo stole his NWL leading 46th stolen base in the first inning.
The Dust Devils (42-32, 20-16) and Volcanoes (34-40, 18-18) will play the fourth game of their five game series Friday night. Ben Alsup (3-3, 3.46) will start for Tri-City against Paul Davis (1-0, 1.80). With a win in either of the final two games, the Dust Devils will clinch the second half Eastern Division title. The Volcanoes were eliminated from playoff contention with their loss Thursday. Friday night will be Rally Towel Giveaway Night presented by Charter and will also be the final Lamb Weston $1 Family Feast Night of the season. First pitch is scheduled for 7:15pm at Gesa Stadium.