Soldier's life saved by blood donations
Posted:
Updated: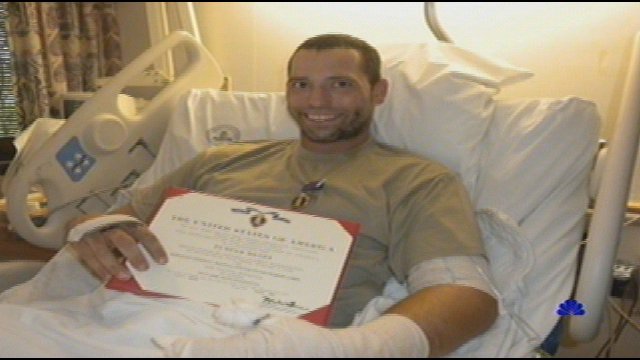 KENNEWICK, Wash.—People are in need of blood transfusions every day, but there is never enough to save every life. Now the American Red Cross is trying to pull in big donations by teaming up with Wal-Mart and having blood drives throughout the month. KNDU will be profiling people throughout September who have been helped by local blood donations.
This week we introduce you to 29-year-old Sergeant Joshua Elliott. Elliott is a combat engineer for the U.S. Military.
"Josh has always been one of those kids who loves to have adventure and doesn't have any fear," says DeLynn Elliott, Josh's mother.
DeLynn says her son's bravery led him to join the military in 2002, but last April it was tested when he was ordered to Afghanistan.
"I stepped right on top of a pressure plate, which is just a couple boards with wires in between, and a ten pound explosive device exploded directly underneath me," says Sergeant Joshua Elliott.
Elliott says he flew into the air and then crashed through the floor. He lost both of his legs, three fingers, some of his hearing and a life-threatening amount of blood.
"I was in denial first. I didn't want to believe that happened," says Dennis Elliott, Josh's father.
Josh and his family say his life was spared because of one thing most of us can give.
"The only reason why he's alive today is because people were generous enough to give blood," says DeLynn Elliott, Josh's son.
Josh has received 20 units of blood so far. He is expected to need even more. Even though his treatment is not done, he hopes to be a living inspiration and show exactly what your small blood donation can do.
"A donation is not only something to do or something to make you feel better but it honestly saves lives, and it saved mine absolutely," says Elliott.
To donate go to one of the following locations:
Thursday, September 1st:
Kadlec Medical Center
888 Swift Blvd, Richland
8am – 2pm
Friday, September 2nd:
Richland Donor Center
447 Wellsian Way, Richland
8:30am – 1:30pm
Wal-Mart Kennewick
2720 S. Quillan St., Kennewick
1-6pm
(p) 586-1554, ext. 132
Monday, September 5th:
Richland Donor Center
447 Wellsian Way, Richland
9am – 2pm

Tuesday, September 6th:
Richland Donor Center
447 Wellsian Way, Richland
1-6pm
Grace Baptist Church
4403 W 10th., Kennewick
12:30 – 6:30pm
Wednesday, September 7th:
Ranch and Home
845 N Columbia Center Blvd., Kennewick
1-6pm
Rattlesnake Mountain Harley Davidson
3305 W 19th Ave., Kennewick
1-6pm
Thursday, September 8th:
US Army Corps
201 N. 3rd St., Walla Walla
9am – 2pm
Wal-Mart Kennewick
2720 S. Quillan St., Kennewick
1-6pm
(p) 527-1554, ext. 132
Friday, September 9th:
Richland Donor Center
447 Wellsian Way, Richland
8:30am – 1:30pm
Wal-Mart Richland
2801 Duportail St., Richland
1-6pm
(p) 628-8420, ext. 183
Saturday, September 10th:
WalMart- Pasco
4820 N. Rd. 69, Pasco
10am – 3pm
(p) 543-7934
Monday, September 12th:
Richland Donor Center
447 Wellsian Way, Richland
2–7pm
St. Anthony's Hospital
1601 SE Court Ave., Pendleton
1-6pm
Tuesday, September 13th:
First Congregational Church
73 S. Palouse, Walla Walla
1-6pm
Wal-Mart Richland
2801 Duportail St., Richland
1-6pm
(p) 628-8420, ext. 183
Wednesday. September 14th:
Eastgate Church
380 N. Tausick Way, Walla Walla
1-6pm
Milton- Freewater Sr. Center
311 N. Main, Milton-Freewater
1-6pm
Thursday, September 15th:
Wal-Mart Pasco
4820 N. Rd. 68, Pasco
1-6pm
(p) 543-7934
Physician Immediate Care
310 Torbett St., Richland
1-6pm
Friday, September 16th:
Richland Donor Center
447 Wellsian Way, Richland
8:30am – 1:30pm
Lampson Intl LLC
607 E. Columbia Drive, Kennewick
8:30am – 1:30pm
Monday, September 19th:
Richland Donor Center
447 Wellsian Way, Richland
2-7pm
Wal-Mart Kennewick
2702 S. Quillan St., Kennewick
1-6pm
(p) 586-1554, etc. 132
Tuesday, September 20th:
Richland Donor Center
447 Wellsian Way, Richland
1-6pm
New Hope Community Church
1350 S. Hwy 395, Hermiston
1-6pm
Wednesday, September 21st:
Wal-Mart Pasco
4820 N. Rd. 68, Pasco
1-6pm
(p) 543-7934
Friday, September 23rd:
Richland Donor Center
447 Wellsian Way, Richland
8:30am – 1:30pm
Wal-Mart Richland
2801 Duportail St., Richland
1-6pm
(p) 628-8420, ext. 183
Monday, September 26th:
Richland Donor Center
447 Wellsian Way, Richland
3-7pm
Wal-Mart Kennewick
2720 S. Quillan St., Kennewick
1-6pm
(p) 586-1554, ext. 132
Tuesday, September 27th:
Pilgrim Lutheran Church
640 E. Elm, Othello
1-6pm
Wal-Mart Richland
2801 Duportail St., Richland
1-6pm
(p) 628-8420, ext. 183
Wednesday, September 28th:
Elk's Lodge
814 N. Stratford Rd., Moses Lake
12-5pm
Keystone RV
3000 Westgate, Pendleton
10:30am – 3:30pm
Thursday, September 29th:
Keystone RV
3000 Westgate, Pendleton
8:30am – 1:30pm
Friday, September 30th:
447 Wellsian Way, Richland
8:30am – 1:30pm
Wal-Mart Pasco
4820 N. Rd. 68, Pasco
1-6pm
(p) 543-7934