Woman warns neighbors of fire, helps save their lives and home
Posted:
Updated: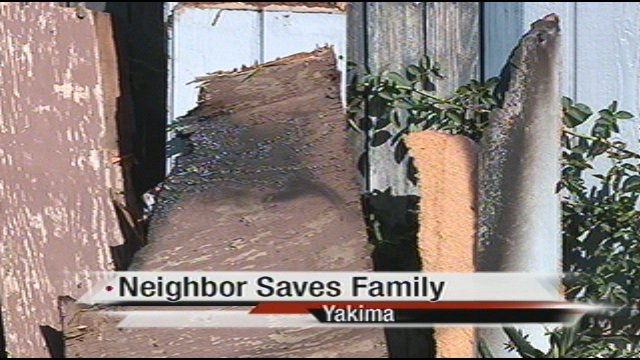 YAKIMA, Wash.-- A home in Yakima nearly went up in flames Friday night if not for a perceptive neighbor.
Torra Buckingham was sitting on her porch on the 800 block of Lafollette Ave when she thought she saw smoke next door. When she took a closer look, flames were already visible under the home, so she took action.
"I saw smoke so I went in front of their house and saw little flames, knocked on the door really good and then I called 911," said Buckingham.
After she got the family out of the home, the homeowner used a hose to keep flames under control until fire crews could arrive.

Yakima Fire Lieutenant Don Wolterstorff says in this case the neighbors actions may have saved the families lives, and their home. But he cautions people in being too brave.
"If it's a significant fire event, get the people away, stay away," Lt. Wolterstorff said.
Lieutenant Wolterstorff says they see this a lot when it comes to EMS calls, neighbors notice papers piling up or haven't seen someone in a few days, so they call 911.
A lot of the time when crews arrive they find someone in bad shape.
"In those cases, we often times get a call to come check on them. Which we quite frequently find people who are unable to take care of themselves," said Lt. Wolterstorff.
YFD says that it's important for neighbors to look out for each other to have a safer city. But when it comes to fighting an active fire, leave that to the pros.

Buckingham says she's just happy she noticed it and could help.
"You might have saved their lives," we said.
"I'm just glad they're all safe," she said.