Dust Devils Complete Sweep
Posted:
Updated: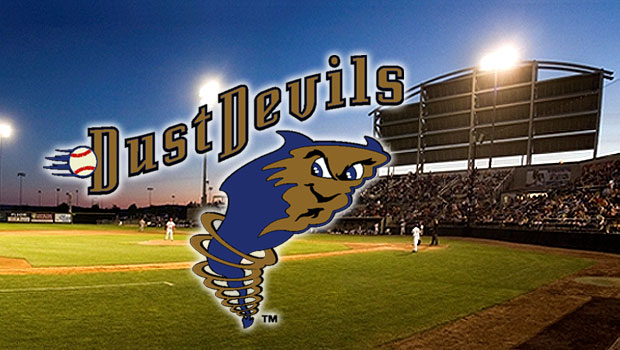 PASCO, Wash. -- It seems as though the Tri-City Dust Devils were ready for the playoffs after all. After struggling over the final two weeks of the season, the Dust Devils entered the playoffs and made quick work of the Boise Hawks.
Tri-City beat Boise Tuesday night, 9-1, in front of 962 at Gesa Stadium to win Game 2 and advance to the Northwest League Championship Series for the third time in the team's history.
Much like in Game 1, Tri-City jumped out to a 1-0 lead in the first inning when Jayson Langfels hit a run-scoring fly ball to bring in Brian Humphries. The Dust Devils added four more in the fourth inning starting with Jaron Shepherd's RBI-single. Shepherd had a career game, going 4-for-4 with two runs and an RBI.
The five run lead was plenty for starting pitcher Tyler Gagnon. The Brentwood, Ca. native struck out six and allowed one run - a Reggie Golden solo home run - over six innings of work to pick up the win. Gagnon was followed by three Dust Devils relievers, who each threw scoreless innings.
Rafael Suarez, who pitched the seventh, gave up a single and walked two to load the bases with two outs. Hawks first baseman Ryan Cuneo, who had two of the team's four hits in Game 1, came to the plate and hit what looked a game-tying grand slam. But the ball hooked just foul and Cuneo eventually flew out to center field and ended the inning.
Tri-City followed with an unearned run in the seventh on a Ryan Casteel RBI-single and three runs - two earned - in the eighth inning to put the game out of reach.
Nelson Gonzalez and Rhett Ballard each pitched perfect innings to finish the game and clinch the East Division title for the Dust Devils.
Tri-City will now wait for the result of Game 3 in the West Division Series. Vancouver beat Eugene at PK Park to force a decisive game on Wednesday night. If the Emeralds wins, Game 1 of the NWL Championship Series will be played at 7:05 on Thursday night in Eugene with games two and three (if necessary) at Gesa Stadium on Friday and Saturday.
If the Canadians win, Game 1 will be at Gesa Stadium Friday night at 7:15 with the final two games in Vancouver on Saturday and Sunday.