Soldiers return home after year deployment
Posted:
Updated: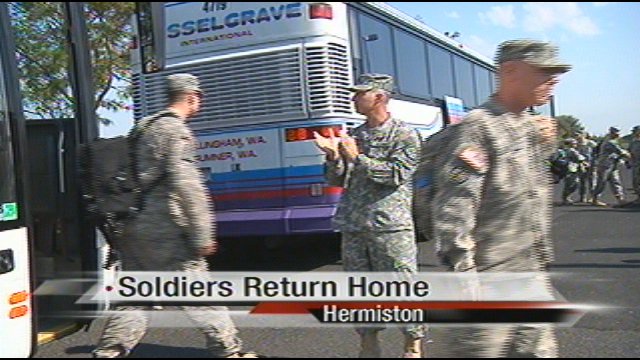 HERMISTON, Ore.—Many military families never forget the day their loved one is deployed, but their return can be even more memorable. Wednesday morning 26 soldiers returned from Iraq at the Hermiston Armory. They're part of the Third Battalion, 116th Cavalry Brigade and served in support of Operation New Dawn.
One family says this past year has been one of the hardest for them. It is the second deployment for Richard Barthel.
"It's been hard. A lot of stuff has happened this year more than any other year," says Jake Barthel, father deployed.
"To go back a second time 20 years later is just amazing for him to make that sacrifice, and it was a sacrifice for him to leave us," says Lynette Barthel, husband deployed.
The family says while Robert was fixing soldier's weapons overseas, he was missing family memories, especially those of his grandson Aden.
"He missed the whole, his whole life and he missed seeing him start walking and start doing all that stuff," says Katie Barthel, father deployed.
However, even with the challenges, the family says they are very proud. The family is now celebrating their soldier's return and his great accomplishments
"He's the best dad you can have," says Katie Barthel.
"He's just always been a very strong leader. He's just a leader wherever he goes," says Lynette Barthel.
A total of 137 soldiers from all over Oregon were part of the Brigade. The Combat Team conducted force protection and convoy security missions in Iraq. They received more than 200 individual awards.