Those evacuated are close to going home
Posted:
Updated: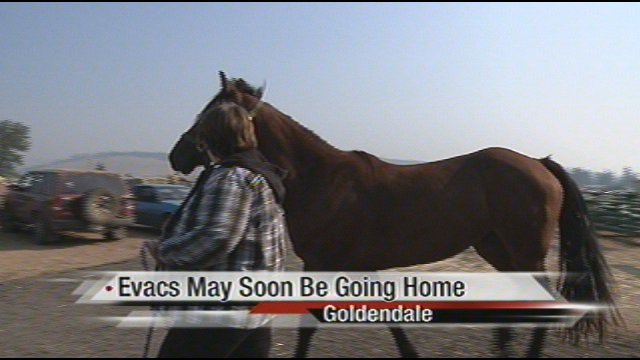 KLICKITAT COUNTY, Wash.-- Evacuation orders are still in place for about 200 homes and Sheriff's Deputies say they have not let anyone back in the area.
The Sheriff's Office says as long as the fire remains consistent they will begin letting people back in their homes by Saturday evening or Sunday morning.
But some may not have a home to go back to.
We met Mary Carr a few days ago, less than 24 hours after her and her family left their home right in the path of the fire.

At the time she didn't know what happened to her house but today unfortunately, reality has set in.
"It's all gone. I lost my tack, for my horses. Some other things that were lost were very valuable, but it's ok. We'll go on," said Carr.
She says a neighbor told her about her home burning down but they weren't able to confirm it until yesterday.
"Last night my husband was able to go in to see our place and everything's gone." she said.
The Klickitat County Sheriff's Office is handling evacuations and they say getting people back home is their priority right now.

"What's going to happen this afternoon once the heat of the day starts up? And how the fire's going to react? We just want to make sure that people are going to be safe when they do go back into the fire zone," said Pat Kaley who is with the Klickitat County Sheriff's Office.
Safety is on everyone's mind. With over 4,000 acres charred, and the fire continuing to rage, officials are waiting to see what the flames do before people are let back in.

Mary says that although she and her family don't have a home to go back to, they will rebuild their home, and rebuild their lives.
"We're going to live again, we had 14, 15 years there and we'll rebuild again," she said.
If you're interested in donating to help those affected by the Monastery Complex Fire, click on our Newslinks tab.