New Grid-Friendly car charger is used for wind energy
Posted:
Updated: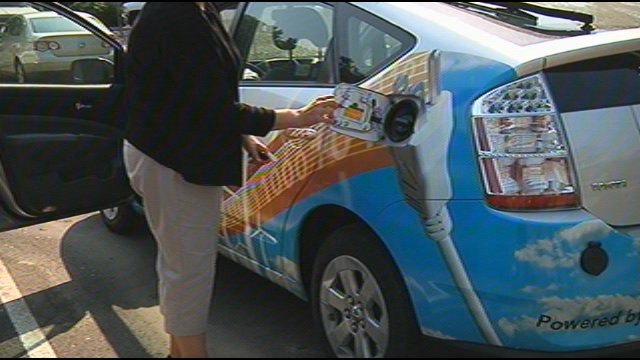 RICHLAND, Wash.-- New Grid-Friendly car charger is used for wind energy. Scientists at Pacific Northwest National Laboratories say they are closer to solving one of the main problems with wind power, how to store the energy when it's not immediately needed. They are working on an electric car charging system that would essentially use the car batteries as storage.
When there is too much wind the Grid-Friendly charger controller can tell the car exactly when to charge. This is good because we now have a way to use all wind that is being produced 24 hours a day seven days a week.
Electric cars with grid-friendly charging helps keep more wind power to the electric grid by telling the car to charge more when there is more wind power that needs a place to go.
Scientist Michael Kintner-Meyer says "we need to look for new resources to help doing the balancing and we analyzed how many vehicles it would take a certain new technology to charge them to provide these additional balancing services."
P.N.N.L. scientists say if 13% or 2.1 million plug-in electric cars used the Grid-Friendly charging technology. It would be beneficial because all wind power that is being produced would be used all day. Today we were told how this works.
Kintner-Meyer says"there is a control box that would sit either in the car or in the charging station and then it would recognize the balancing needs and then tell the charger which is in the vehicles to change it's charging rate."
the U.S. grid has limited storage. The car needs to be plugged in to detect more energy flow when it's available. The problem now is consumers would need more availability to charge their cars throughout the day, meaning more charging stations to be made public and at work.
The grid charger device allows more clean energy on the grid reducing the use of oil and fossil fuels.