Child struck and killed while waiting for school bus
Posted:
Updated: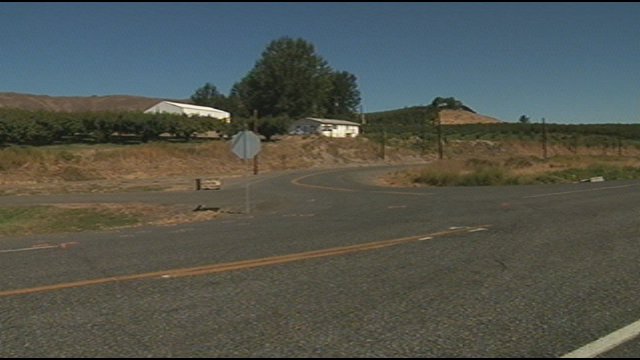 WAPATO, Wash.-- The search is on for a driver who hit and killed an 11 year-old boy Friday morning and didn't even stop.
It happened at a bus stop in front of the boy's father and other young students.
Vernon McFarland, known by his friends as Joey, was hit just after 6 o'clock Friday morning at the intersection of W. Parker Heights Rd. and Yakima Valley Highway in Wapato.
Witnesses who were waiting with him, say it was pitch black outside.
"He got hit right there, and then the body was all the way over there," said Amy Peterson, a friend and witness to the accident.
She says saw the accident happen this morning. She says Joey was playing his GameBoy when he ran across the street and was hit in front of a crowd of kids and his father.
"I guess Joey thought that his dad was calling him so he stood up and ran across the road without even looking and then he got hit by a car," she said.
Amy says when Joey was hit, his body flew maybe 100 ft., landing in the orchards.
His father, using his cell phone for a light, went to his son's body.
"His dad like right after he got hit, his dad ran down there and was with his body and like using, trying to look at his son with the light of his cell phone. It was really sad," Amy said.
Washington State Patrol is looking for a small silver or gray pickup truck, similar to a Chevy S-10, that briefly stopped after hitting the boy but kept going.
"The vehicle should have right front damage to the headlight and the grill and probably up and around the top of the, or the front part of the hood," said Lt. Terry Liebrecht of the Washington State Patrol.
Amy and her parents say they're actually surprised no one else has been hit there. The kids wait for the bus in the dark, then are forced to cross Yakima Valley Highway, to get onto the bus, a fast and dangerous road.
"The bus comes down this road and stops at the stop sign and then we have to cross the road to go to the bus. Yesterday I almost got hit," said Amy.
Amy says Joey was a nice and funny 6th grader at Wapato Middle School.

The Wapato School District has brought in counselors for any students who need help in dealing with this tragedy.
Anyone with information on the truck is asked to call Washington State Patrol.