Athletes and Marines come together for a great cause
Posted:
Updated: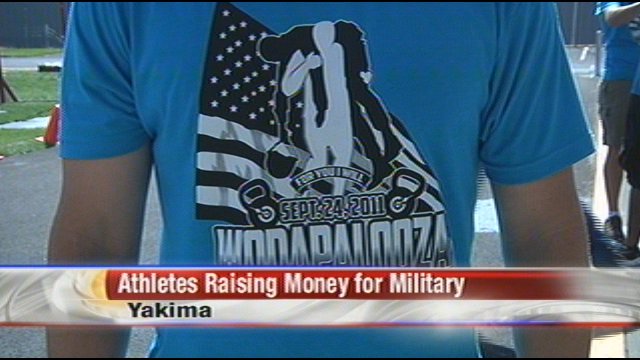 YAKIMA, Wash.-- A local Marine Corps Reserve Company and Yakima CrossFit held a fitness competition and fundraiser at the Reserve Training Center in Yakima.
Saturday's event was called "WODAPALOOZA", based off the intense CrossFit workouts called "WOD's", or workout of the day.
Athletes from across the country competed in the event, trying to prove they are the fittest athlete of all.
But all of the competition went to support a great cause.
All the money raised is being donated to the Wounded Warrior Project and the Marine Corps Ball. Organizers say they are looking at donating $3,000-$5,000 to Wounded Warriors.

Both Marines, and CrossFit athletes competed and organized the event, and say it's more than just a competition.
"The Marine Corps and CrossFit is just like, they go hand in hand. It's the mentality... You push through pain, you push through sacrifice," said Lori Kline of Yakima CrossFit.
"I'm happy and I'm humbled by the patriotism. When you walk in and there's an American flag flying, there's a Marine Corps flag flying, they support the troops," said 1st Sgt. Michael Lillie of Bravo Company, 4th Tank Battalion.
Saturday's event also paid tribute to Lance Corporal Joe Jackson of White Swan who was killed in Afghanistan last April.
A special "Hero" workout has been created in honor of Jackson and will submitted to the national CrossFit association to be added to CrossFit workouts around the country.