Kennewick woman with MS wants to see a crosswalk on Steptoe
Posted:
Updated: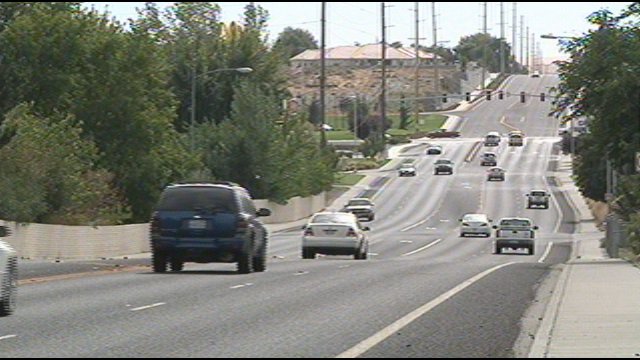 KENNEWICK, Wash. -- "II catch the bus every day, me and my mom both.. That's our transportation now because she can't drive no more," says Cathy Morrell who lives at the Santiago Sunset Estates off of Steptoe Street.
The problem is, Morrell suffers from Multiple Sclerosis, her mother has COPD and Dementia. She says their only way of getting to a doctor is the bus. But the bus is across five lanes of traffic where she says no one obeys the speed limit.
"You have to practically run and when you've got an injury or you're old like that, you just can't do it," says Morrell of the road between Highway 240 and Gage Blvd. Morrell says she doesn't understand why there are no crosswalks nearby, so NBC Right Now asked the Kennewick Traffic Engineer, John Deskins.
Deskins says he's looked at the area twice before, but it doesn't constitute a cross-walk at this point for several reasons. One being crosswalks don't necessarily mean safety for pedestrians.
"Especially on multi lane facilities like here at Steptoe, it can be more dangerous to cross at a crosswalk simply because the pedestrian sense of security. To think that they're going to be safe by stepping out on a crosswalk, that's certainly not true," says Deskins.

Deskins also says putting in a crosswalk is a minimum of $25,000 because it would require building an island in the middle of the road as well as an installation of lights. He says there is no fund for this at the time, and other places in Kennewick have heavier pedestrian traffic.
"In order to get a crosswalk installed, we'd have to be convinced for one that its warranted and that there's at least 20 people or more crossing in an hour. Then in addition, we would require finding a location that would allow for a raised median, and probably the flashing lights as well. and that would have to be funded by the neighborhood or some other source," says Deskins.
Deskins says because there is no money set aside for a crosswalk, Morrell's best bet is to get together with the home owner's associations in the area who could possibly pass an assessment to fund a crosswalk, or even contact the transit system who may want to consider funding a crosswalk for their bus riders.