'Longest Table' brings in biggest crowd
Posted:
Updated: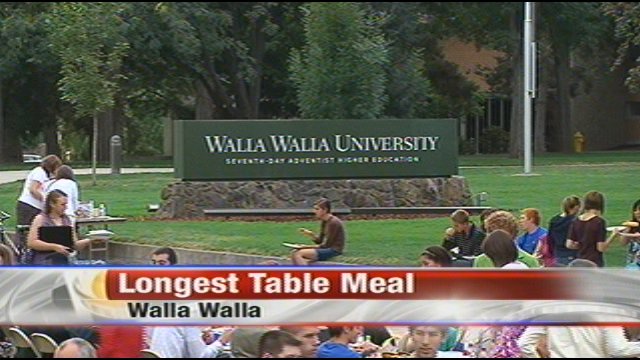 WALLA WALLA, Wash.-- 'Longest Table' brings in biggest crowd. More than 2,000 people showed up Saturday afternoon at Walla Walla University. Everyone from community members, to incoming students.
They met in Walla Walla for a feast with hundreds of different foods. The longest table at Walla Walla University stretched several blocks long. It's for a homecoming for students getting ready to start a new year.
University Pastor Alex Bryan says "well we just thought what is some unique new and creative way that we can celebrate students and we thought well food is always good with college students but then beyond that what if we closed the street down and actually had one big long table. So that's kind what gave birth to the idea."
We were told it's bringing together students, and community members. There was a variety of foods at the event. It took volunteers weeks to prepare for an event like this. Community volunteers were assigned to tables. David Crawford says "three families got together and we made a Mexican fair with tacos, a taco bar, we had salads, cream puffs, flan, roasts. It was delicious."
Students from out of town told us it's a great way to meet locals. Event organizers said more people than they expected came out this year. This is the third year Walla Walla has held the Long Table event. They are planning on more people attending next year.