New crane built in Tri-Cities will lift 3000 tons
Posted:
Updated: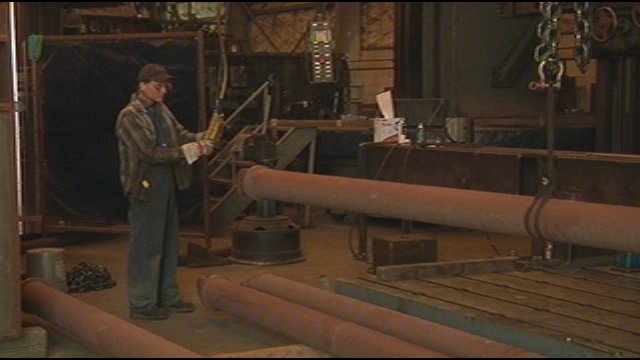 KENNEWICK, Wash.-- One company in the Tri-Cities says it's building the world's biggest land-based mobile crane. Lampson International is now about half way finished building the LTL 3000.
The Director of Purchasing and International Logistics for Lampson, Herb Coulter, says, "The LTL 3000 is a heavy lift mobile crawler crane. It's a dual crawler, lattice boom crane that's capable of lifting 3000 tons."
Lampson is no stranger to building big cranes, you may remember one sticking out of the Tri-Cities skyline a few years ago. Coulter says, "Our previous crane we built was an LTL 2600, rated for 2600 metric tons." It was 560 feet tall. While the LTL 3000 will actually be a little shorter, 520 feet tall, it'll be able to life 400 tons more and pretty much everything else about it will be bigger.
Dustin Hornbeck, Shop Foreman, says when he first heard about plans to make the 3000, "At first I thought they were crazy. The 2600 was already such a large crane."
About 100 people are working on the crane, all in the Tri-Cities. Coulter explains, "They're welding. They're machining. They're doing mechanical work, purchasing, managing. They're designing and engineering."
It's challenging, yet fun: that's how Hornbeck describes it. He says, "There's the challenges of building new jigs and new fixtures to make everything work like it's supposed to."
"You're dealing with big pieces of steel. It's a new design. You've got a long period of time for manufacturing and assembly," explains Kate Lampson, Director of PR and Communications for Lampson.
She says the crane should be built and up for testing next summer. Then, it'll be shipped to Hitachi, which plans to use it to build a nuclear power plant in either Japan or Lithuania.