Art Walk & number of artists growing in Kennewick
Posted:
Updated: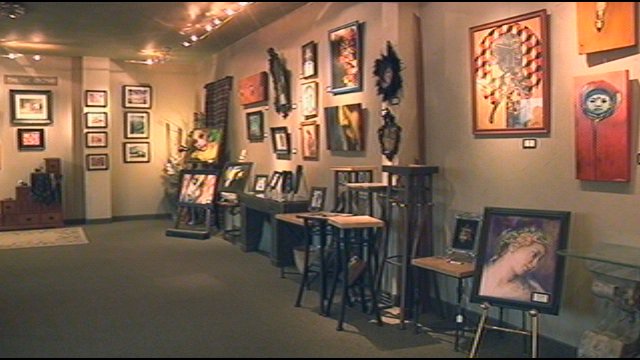 KENNEWICK, Wash. -- The first Thursday of every month is the Art Walk in Kennewick. Organizers say the walk has been growing, and so has the number of artists in downtown Kennewick.
Inside the Kennewick Coffee Company, owner Cameron Mills and his wife are making a frothy latte. When you walk into the shop, you notice more than just the espresso bar; you also notice all of the artwork on the walls. When Cameron isn't manning the coffee shop, he's painting. All of the work on the walls was created by him, and it's all for sale. He says, "People think that you have to go out to the big cities to see culture and everything, but there's people making art here."
A lot of those people are moving to downtown Kennewick, explains Tim Dalton, Executive Director of the Historic Downtown Kennewick Partnership. He says they've poured more than $150,000 into public art in downtown, in addition to other improvements. Dalton believes that has helped stimulate growth and bring more artisans in. "They're seeing the public art. They're seeing a lot of the improvements being made in the downtown area, and it's just kind of contagious," he says.
Dalton says over the past few years, downtown has added at least five new photographers, galleries, or other art spots.
One of those, Deborah Watkins, moved back after six years in Portland. Last month, she opened "DS Watkins Studio and Turtledove Press." When she lived in the Tri-Cities the first time, she helped start the Kennewick Art Walk and says what it has become makes her happy. "I smile because there were 3 galleries that started it and we were unknowns," Watkins explains.
Brooke Yount, Owner of You and I Framing and Gallery, also helped start the art walk nearly a decade ago and remains heavily involved to this day. "Beginning 10 years ago, it was very small, probably only 2 or 3 businesses, and usually just during the summer months," she explains.
Now, the walk is year round. Watkins says, "I came back and there are anywhere from 15 to 20 businesses that are open for First Thursday!"
The Art Walk is the first Thursday of every month, from 5:00 to 9:00pm.