Operation Harvest a big success
Posted:
Updated: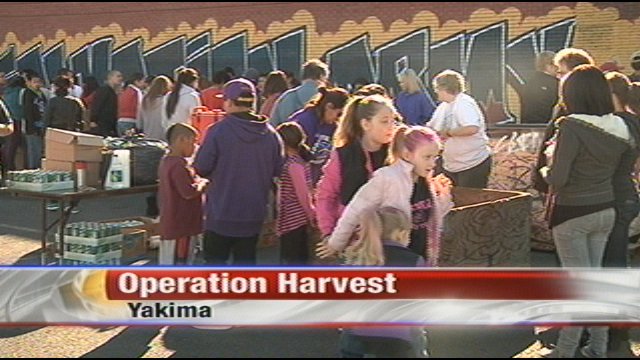 YAKIMA, Wash.-- Most local food banks are always in need of more donations, so Sunday volunteers in Yakima packed thousands of boxes for local food banks for the annual "Operation Harvest."
Over 400 volunteers came out to collect, pack, and sort all the food that was donated.
The Yakima Rotary Club put hosts the event every year, this year being the 29th annual.
Folks around Yakima are asked to donate every year by putting goods out in front of their homes. Then volunteers come by and do the pickup.

Several local companies also donated truck fulls of food this year.
All the food collected is then packed and given to 9 food banks around Yakima, helping thousands of needy families and keeping shelves stocked.
Organizers say it's great to see so many people volunteer and donate to the cause.
"It's important because it's needed. This community is very giving. The sad thing is, there are still people that fall on hard times and need food," said Andy Martinkus, one of the organizers.
Martinkus says that they collected over 100,000 lbs. of food Saturday and even received quite a few large money donations.
Last year he says they raised over $30,000, all of which went directly to the food banks. For every dollar of that money, they say they can buy 6lbs. of food for families in need.