BEYOND THE BATTLEFIELD: The Endless Struggle For America's Severely Wounded Warriors
Posted:
Updated: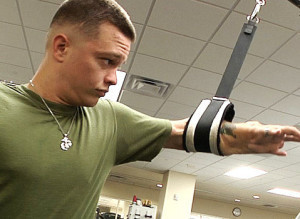 HUFFINGTONPOST.COM - July 4, 2010, was a bad day for Tyler Southern. He dreamed he was with his older brothers, playing sandlot football, running and laughing, horsing around just like they used to when they were together as kids in Jacksonville, Fla.
In his dream, he was whole again.
Then he awoke in his hospital bed at the Walter Reed National Military Medical Center in Bethesda, Md., and reality came flooding back. Both of his legs and his right arm were gone, blown off in Afghanistan two months earlier by an improvised explosive device so powerful that only bits of his legs and boots were ever found. The explosion left one remaining limb, his left arm, broken and mangled.
Southern began to hyperventilate. His mother Patti, at his bedside, reached out to calm him. Mom, something's coming on, he cried. Breathe with me, she murmured. Breathe with me. She gathered him in her arms and held his head tight against her chest as sweat beaded over his body and his heart pounded wildly. He gulped lungfuls of air, his mother rocking him in her arms.
Breathe with me.
Suddenly Southern vomited. Patti rocked him gently in her arms until he was calm.
"My last big, bad day," he recalled recently. "Everybody has 'em," he added, speaking of the other patients he knows who are struggling with severe wounds.
A 22-year-old Marine Corps corporal, Southern is just one of a growing number of young Americans -- 16,000 or more, so far, out of 2.3 million American troops sent overseas -- who volunteered for Iraq or Afghanistan and came back alive but catastrophically wounded.
Those numbers are small but significant, because they indicate an alarming new trend in warfare. Despite untold billions of dollars spent over the past 10 years to defeat Afghan insurgents, the enemy's ability to severely wound Americans in battle is growing, according to U.S. military data and analysis.
Proportionately fewer American troops are being killed outright on the battlefield, thanks in part to better protective equipment and improved medical care. "We are stealing some people from death," Army Brig. Gen. Joseph Caravalho, a senior Army medical officer, told me at the Pentagon.
Still, more Americans are being wounded in combat. And their wounds are more severe and complex, raising difficult issues for military medicine and for the nation on which disabled soldiers will depend for a lifetime of care.
The Defense Department uses a measure called the Military Injury Severity Score to categorize wounds. In Afghanistan, the severity scores have increased steadily since 2006, the Army reported in June.
The number of American soldiers who lost at least one limb in combat doubled from 86 in 2009 to 187 last year, while the number with multiple limb loss tripled, from 23 in 2009 to 72 last year. Those in need of blood transfusions of 10 units of blood or more (the human body holds a total of 10 units of blood) rose during that 12-month period from 91 to 165.
And triple amputees like Tyler Southern are becoming more common. Their ranks have nearly doubled this year from the total of all triple amputees seen over the past eight years of war, the Army said in its report, "Dismounted Complex Blast Injury."
"These complex blast injuries are not only complex for the person to live with for the rest of their life, but they're also difficult for the entire medical health care system because of the resources they take," said Army Col. James Ficke, chief orthopedic surgeon at the Brooke Army Medical Center in San Antonio, Texas. Click here to read more