Pulock's two help Brandon hand Tri-City first home los
Posted:
Updated: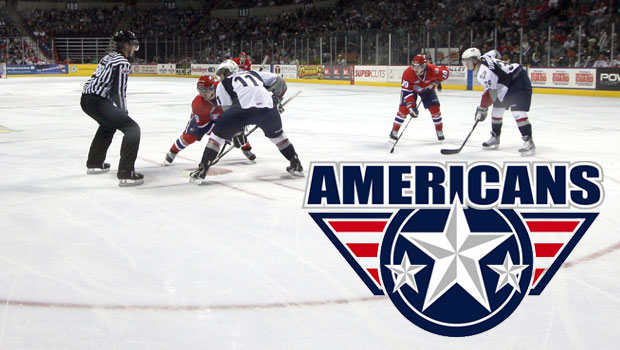 By Dan Mulhausen
KENNEWICK, WA – In a well-played game between two good teams, it was the Wheat Kings' offense that was able to better the Tri-City defense.
Ryan Pulock scored twice and Liam Liston collected 29 saves to push the visiting Brandon Wheat Kings (5-2-0-1, 11 pts) past the Tri-City Americans (6-3-0-0, 12 pts) 3-2 in front of 3,697 fans at the Toyota Center. With the win, Brandon moved to 1-1 on their U.S. Division swing and improved to 10-8 with 1 tie all-time in Kennewick. Meanwhile, Tri-City had their four-game home winning streak snapped and fell to 3-3 in their last six meeting with the Wheat Kings.
Coming into tonight's contest, Brandon had scored 3 or more goals in each of their first seven games. However, when they had scored 3 goals, both games ended in losses. On Friday night in Kennewick, one streak continued and one snapped, just not in the way Americans' fans would have liked.
Space was hard to come by in the first period and good scoring opportunities were even harder. However, Brandon got their first great chance following Michal Plutnar's penalty on an Alessio Bertaggia breakaway, leading to a penalty shot. However, young netminder Eric Comrie was up to the task, stuffing the Swiss forward at the 11:45 mark, keeping the game scoreless.
Two minutes later, and just six seconds into their first power play opportunity, Pulock buried a shot inside the far post, giving the defenseman points in six consecutive games and Brandon a 1-0 lead.
Tri-City, with 4:59 left in the first, thought they had found the equalizer. However, during a scrum in front of Liston, the video goal judge ruled that Malte Strömwall had kicked the puck into the net, overturning the ruling on the ice. Just two minutes later, though, Strömwall nailed a no-doubter from the top of the left circle, beating Liston top shelf to knot the game at 1.
Brandon, however, with 2:17 left in the first period, made several great plays which eventually led to a 2-1 lead. After Tri-City won a face-off in their own zone, the Americans failed to clear the puck on three occasions before Pulock finally corralled the loose puck. Then, from inside the slot, Pulock buried his third goal of the season while recording his first multi-goal game of his WHL career.
Down by 1 after one, Tri-City quickly tied the game again in the second period. Only 2:29 into the frame, Patrick Holland set-up Drydn Dow in the high slot, who fired a slap shot over Liston's glove, tying the game at 2.
But, five minutes later, and while playing 4-aside, Mark Stone and Tyrel Seaman were able to generate a brief 2-on-1 situation against Tri-City defenseman, Mitch Topping. Stone, who brought the puck into the zone, placed a perfect pass onto Seaman's blade, who redirected the puck past Comrie for the eventual game-winner.
Still trailing by one late in the third period, and midway through their final power play, Americans' coach Jim Hiller opted to pull Comrie for a 6-on-4 advantage with 2:49 left to play. The gamble nearly paid off, as Liston was forced to make a great kick save on Plutnar, who had snuck behind the defense and attempted to cash in on a pass from Holland at the far post.
It would be as close to tying the game as Tri-City would get, however, as Liston and the Wheat Kings held off Tri-City's charge for the win. Liston, behind his season-high 29 saves, improved to 2-0 on the year. Meanwhile, Comrie, who put in another solid effort against a good offensive club, finished with 23 saves on 26 shots in falling to 2-2 on the year. The Americans finished the night 0-for-5 on the power play, while Brandon went 1-of-4 on the man-advantage.
Tri-City will now turn their attention to their B.C. Division rivals, the Vancouver Giants (4-4-0-1), who pay their first visit to the Toyota Center of the season. The Giants, who have lost in their last four regular season trips to Kennewick, come in having lost two of their last three games. Meanwhile, Tri-City, which has knocked Vancouver out of the post-season each of the last two years, will be looking to avoid back-to-back home losses for the first time since Feb. 21-22 of last year. Tickets are available through all Ticketmaster outlets, including online at ticketmaster.com, the Toyota Center box office, or all Fred Meyer outlets. The game will also be broadcast live on NewsTalk 870 AM, starting with the Sterling Savings Bank Warm-up Show at 6:45 p.m.
Applebee's 3 Stars:
1, Ryan Pulock, Brandon
2, Mark Stone, Brandon
3, Malte Strömwall, Tri-City