Final delivery of chemical agents to facility
Posted:
Updated: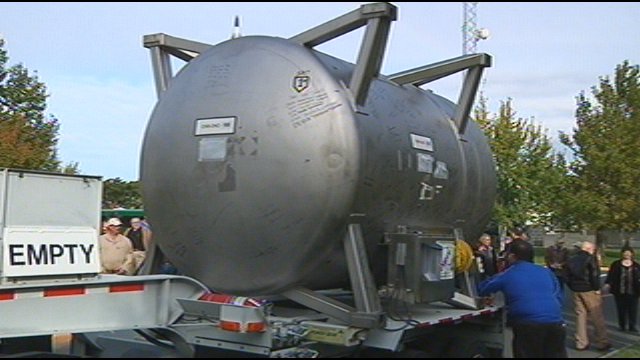 HERMISTON, Ore. -- For nearly 50 years, the Umatilla Chemical Weapons Depot has stored highly dangerous chemical weapons. But today marked the last delivery of chemical agents to the disposal facility.
The final stockpiled ton container filled with mustard chemical agent was delivered to be destroyed today.
"I think it's bittersweet," that's how CSEPP employee Laura Harriman describes the final delivery of mustard chemical agent. Those words are simple and to the point, and describe how many feel.
"You have great relationships with the employees. And a beautiful place to work," says Harriman.
For Harriman, that work also included driving trucks that contained chemical weapons,"there was years of training involved. A good year in a half in the beginning and everything from fork lift training, CDL training, chemical training."
Chemical weapons were first brought to the depot when John F. Kennedy was president. Up until now, they've been housed at the depot which has stored, secured, and shipped more than 220,000 chemical weapons.
But the turning point came in 2004 when destruction of the chemicals began. "In the public safety business, you spend so much time preparing for trying to mitigate a disaster and natural hazard. And here's one from the public safety community we're able to actually see go away," explains Chris Brown of CSEPP.
Today's milestone was also a special moment for depot commander Lieutenant Colonel Kris Perkins, "they've given their lives, their entire career to accomplishing what we're doing today. And I think it's a proud moment for me and the army and community, but for this workforce, it's an exceptional day."
An exceptional day shadowed with these words from Harriman, "a brighter future."
The final container of mustard chemical agent delivered today is expected to be destroyed by Monday, October 24th.