2010 crop value has farmers hoping for continued growth
Posted:
Updated: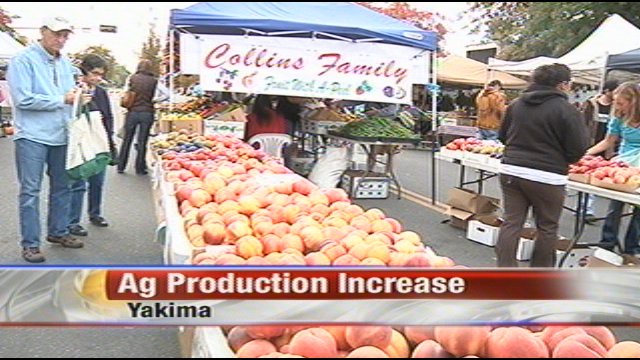 YAKIMA, Wash.-- A big turn around in Washington's 2010 agriculture production means good business for farmers.
"Last year's harvest was pretty good. It was a lot earlier than this years," said Calvin Collins.
Collins owns and runs Collins Family Orchards in Selah, and like many farmers says it's been a strange year for picking.
"Last year there was a better picker supply, but this year the picker supply is pretty light. So, a lot of my neighbors are having a real difficult time getting their fruit off in time," said Collins.
But regardless, he's confident the 12% increase in 2010 will continue with this years harvest.
"The old orchards used to pick about 35 bins per acre. So even though there's no more acreage now than there used to be back in the old days, they're just a lot higher production," said Collins.
Higher production that's a welcomed site for farmers after 2 disappointing years in 2008 and 2009.

In 2010 though, apples kept their top spot as the state's most important crop, valued at $1.4 billion.
Cherries also saw a huge turn-around last year, up 59%.
Collins says it's the way they're farming now that's making a big difference.
"The planting now are high density, so they're producing probably 80-100 bins per acre," Collins said.
And of course, more bins, equals more fruit, equals more money for farms and better prices for the consumer.
"You may make the same amount of money per bin, but you're picking twice as many bins per acre," said Collins.