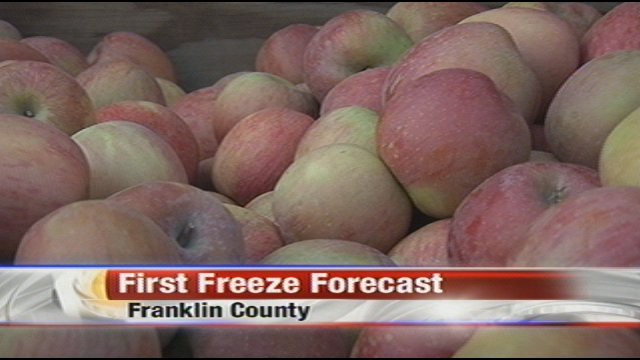 FRANKLIN COUNTY, Wash. -- The National Weather Service is forecasting the first freeze of the season overnight. Several apple growers say this season's harvest is about 10 days later than usual.and a long freeze could do some damage.
The first freeze is forecasted for Tuesday morning, starting at around 1:00AM. Then its supposed to warm up and drop again in the evening. Wednesday morning's temperatures are expected to fall below 28 degrees.
The owner of Douglas Fruit, David Douglas, says he's not worried about the first freeze. He says he would be worried if it stayed below freezing for a prolonged period of time.
"Apples can withstand some cold temperatures. They can withstand some below freezing temperatures, but too much below freezing temperatures for a sustained period of time will actually kill the piece of fruit and we won't be able to harvest it for the fresh market," says Douglass.
He says if it remains below freezing pickers will not be able to harvest the fruit without bruising and damaging it. Douglas Fruit grows about 3% of Washington's total apple crop.
The freeze is expected to affect crops in the Tri-Cities, Yakima, Connell, Prosser, Sunnyside and Eastern Oregon areas.