Police are trying new training tactics
Posted:
Updated: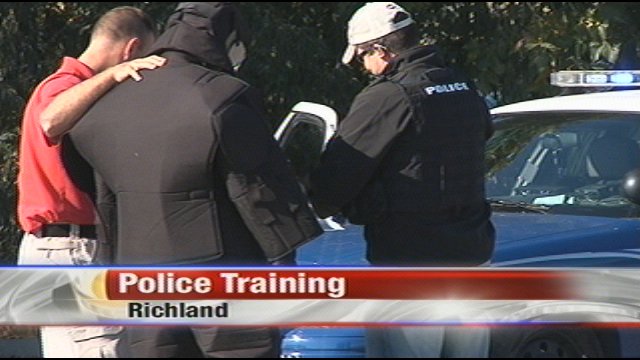 RICHLAND, Wash.-- Police are trying new training tactics. Richland Police simulated an incident Tuesday afternoon like ones they have faced in the past. For example, the one back in June when a man was killed in an officer involved shooting. They are doing this to improve their approaches to situations that could be very dangerous.
Police were using different training tactics. They took turns learning new defensive strategies. Some of the drills they did involved how to approach a vehicle when a person inside is potentially dangerous. Captain Mike Cobb says "the people you see out here even as role players are police officers, and so whether it's handcuffing or being the recipient of a tazer, our officers will go through that 25, 30 to 40 times in one single training cycle."
Richland Police and other Tri-City law enforcement do these kinds of training sessions several times a year. They're doing this to keep their skills polished. Cobb says "skills that police officers have are perishable. They fade with non-use. So what we try to do is think up live scenarios that the officers are going to face on the streets every day."
They went through different types of lessons from tazing to practicing drills with a firearm. Officers want to perfect situations they've faced in the past. Sgt. Tony Striefel says "what we've done is take a look at scenarios that have happened in real life here in Tri-Cities. We've modified the scenario so that officers can get trained on what really happens out there in the streets."
Police officers also get lessons in a class room to re-certify themselves on training techniques. Washington state requires all police departments to do at least 24 hours of training a year. The Richland Police Department requires their officer to do more than 180 hours of training.