Business Expo brings out optimistic owners
Posted:
Updated: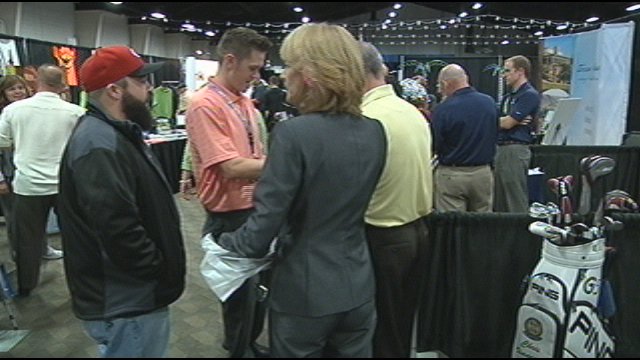 PASCO, Wash. -- More than 100 large and small business owners are all under one roof at the "Open for Business Expo" at the TRAC.
The hottest item there is business cards. From startups to established companies, each had a common goal, build relationships and grow their vision.
If you ask business owners what the economy means for their company, don't expect the same answer. "We've seen a slow down," says Chris Isaacson, of the Tri-City Country Club.
For others like Bella's Office Furniture, business has been the opposite of slow, "we're kind of like the front end of a lot of the growth that's happening here in the Tri-Cities," says Jeremy Brock, sales person with the company.
And for some like Thomas O'Neil of Thomas O'Neil Cellars, it's too soon to tell, "we're just trying to see what the trend is like."
The trend for many people here, spend as little money as possible and make as much as they can.
For Bella's Office Furniture that's true, their customers are shopping for used rather than new. "And that seems to be the biggest trend this year. Is people kind of like trying to get bargains and special deals and ways to get more value for their dollar."
Business owners all under one roof. Swapping business cards, selling products, and building tight bonds.
Chief state economist Dr. Arun Raha says the climate is right for a recession. But expo's like this could soften the blow, "the main thing that keeps the economy going is demand. And that demand now has to come from the private sector."
For businesses like 73 year old Tri-City Country Club, the exposure from this expo is already paying off, "we've been able to already talk to some of these and the awareness. They didn't know what we truly offered as a business," says Chris Isaacson.
Thomas O'Neil also feels with his business only 6 months old, the event is a good opportunity, "well, if nothing else, it'll be some more recognition, people would know that we exist."
All of the businesses I spoke to new and old are optimistic. They say they expect a strong demand for customers in our area, that they couldn't find in other parts of the state or country.