Teen shelter needs donations to open earlier due to cold weather
Posted:
Updated: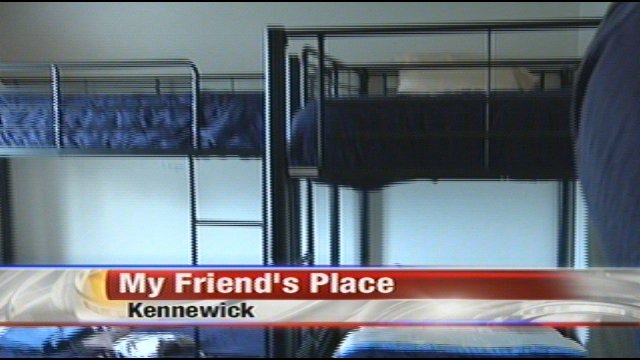 KENNEWICK, Wash. -- "My Friends Place" is an overnight shelter specifically for teenagers 13-17 years old. It's slated to open in January, but there is a great need now.with the temperatures dropping.
They're hoping for some generosity from you "We got a grant from the county for $87,000, so we are supposed to open January. But.if we can raise money privately, we can open before that. Obviously because its getting cold, we think its important to get these kids. Particularly the girls, who may do crazy things. Some of them may end up pregnant just because they take steps to survive," says Clifford Brown, the President of My Friend's Place.

Brown says they need $10,000 to open by next month. The Executive Director, Sue Delucchi says they have some volunteers ready to go, but they need training and money so they can be open every night.
"We'd love to open the shelter immediately. However we are licensed by the state of Washington. We have a lot of licensing requirements that we have to fulfil and in order to do that we have to have paid staff. even if we supplement them with volunteers," says Delucchi.
Brown says according to the three school districts, Pasco, Kennewick and Richland, right now there are more than 600 homeless kids living in the Tri-Cities, and about half are teens. He says there are also those not in school because they have no home.
"These kids can't go to the Gospel Mission because they're not 18. Unless they're female victims of domestic violence, they can't go to the battered women's shelter, so they're basically homeless," says Brown.
In the meantime, My Friend's Place is open for some basics on Sundays and Mondays. "Teens with nowhere to go can come and have a meal with us. They can also do their laundry. They can take a shower if they don't have a place to do that. We have toiletries and clothes for them too," says Delucchi.
Brown is helping organize a fund raiser Saturday.It is a costume party with five bands on Clover Island It is free of charge, but they will be taking donations.
Local artists will also be at a "Lawyers And Artists Costume Ball" at the Clover Island Inn. The event starts at 7:00pm and has a $25 cover. All proceeds will go to the teen shelter.