Pink flamingos used for charity stolen from Kennewick Yard
Posted:
Updated: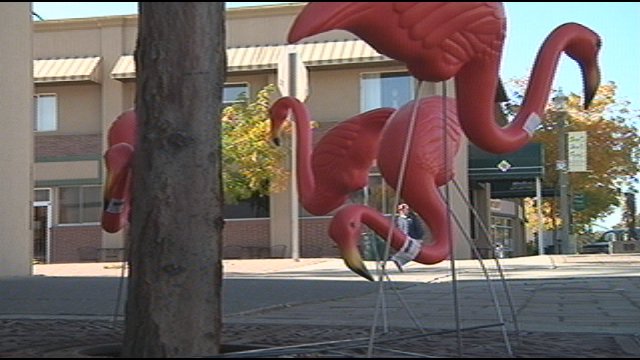 KENNEWICK, Wash-- Jenna Boogerd and her sister found a funny way to raise money for charity,. They would flock people's yards with dozens of plastic pink flamingos, and they called it "flocking."
Jenna is one of five people recently elected as part of the Tri-Cities Finest Young Professionals by the Cystic Fibrosis Foundation. Her goal was to raise $2,500 this month. She managed to raise $1,600 by leaving the birds in people's yards and the trend quickly caught on. "We would leave a note on their door saying you'd been awarded this beautiful flock and they had the option to either send it on to a friend for $25 dollars or for $20 dollars they'd come pick it up," says Boogerd.
"It's kind of like a cool thing if you got flocked and so i know we were kind of looking forward to seeing if they would do it to us. We were pretty excited," says Brittney Kluse, a friend and fellow Young Professional member. On Saturday night, Kluse got her wish.
"My husband and i went out like on 10:30 Saturday night because we knew Brittney was out, and we left our entire flock there, all 49 birds," But Kluse hardly noticed.
"Jenna text me and said have you seen all the birds? We put everything in your yard and i thought...Gosh, there's only like 6 birds," says Kluse.
It turns out the rest were stolen. Boogerd says replacing them for a $15 a pair makes little sense, since she only had a week more to finish the fundraising effort. "They're pretty expensive, and at this point it wouldn't be cost affective to replace the entire 60 birds for a week left," says Boogerd.
Boogerd is however looking for some help. She says if the people who took them could simply return them, she'd be happy no questions asked. You can turn them back to where you found them, at the home at Hanson Park on W. 4th Place and Joliet Avenue.
To help her meet her fundraising efforts, click here.