Yard work scam suspect arrested but YSO's looking for more victims
Posted:
Updated: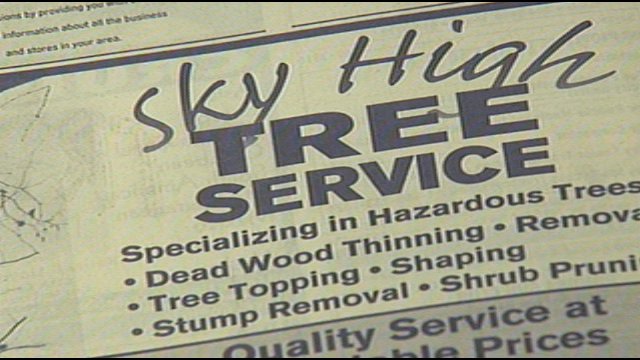 YAKIMA, Wash- In 2007 we told you about a man who had been taking money for landscaping work but never finishing the job. It turns out he has allegedly been at it for the last four years. He's now behind bars. But investigators worry he has more victims out there.
Fidel Duran saw Johnny Brown trimming a neighbor's tree and hired brown to do the same for him. At first he says Brown seemed hard working and honest.
"He will do half the work and then he'll go to something else and so 'this also needs work'", claims Duran.
But within weeks he says Brown took him for over $1,000. Yakima Sheriff's investigators say Mister Duran is just one of many.
"Right now we have several felony charges against Mister Brown, we received another complaint today", says detective Ed Levesque of the Yakima Sheriff's Office.
Detective Levesque says brown has scammed people using the business names "Sky High Tree Service" and "Spaniard Tree Service".
But his m. o. is the same.
"He'll do part of the job and he'll leave taking payment up front", says Levesque.
Never finishing. Do it to one person and it's a civil matter, but do it too many..
"When you establish a pattern like that, defrauding people then it becomes criminal".
Brown's been under investigation since February, but we ran a story on his company in 2007 after a viewer complained to us that Brown scammed her using the company "Sky High Tree Service".
The company looked legitimate, they had a half page add in the phone book complete with a 'license number".
However a license number is only as good as it is valid. In the phone book we spotted a number of businesses that listed license numbers that were either expired, suspended, or completely invalid. The only way to know is to check yourself of the Labor and Industries website.
"Always be leery, trust your gut feeling, I'd definitely do a little research before you go and hire somebody", advises Detective Levesque.
"Don't pay up until the work is done 100 percent", adds Duran.
Levesque says Brown claims he finished all the work in question. However if you think you were scammed by Johnny Brown or Sky High Tree Service the Yakima Sheriff's Office wants to hear from you. They've got him behind bars under felony theft charges but they believe he has more victims out there.