Wildlife officials say big dog not cougar is behind pig attacks in Prosser
Posted:
Updated: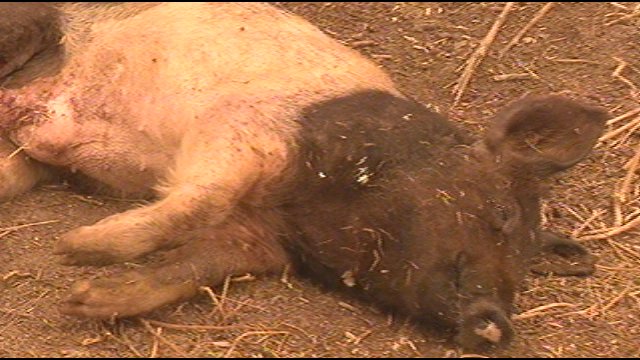 PROSSER, Wash. -- Several people living in Prosser have been on edge after a cougar possibly attacked some pigs, the Washington Department of Fish and Wildlife now says, those attacks were caused by a big dog instead.
Ron Carpenter, the manager of Mid Valley Mill says the last pig attack happened Sunday night, and a worker shot and killed a big dog next to the pig pen Monday night.
Lt. Mike Jewell, a supervisor with Fish and Wildlife came out to Mid Valley Mill Wednesday and says he is 99 percent confident the dog is the culprit. He says the pictures taken with a game camera look like the dog's ear, not a cougar's. He also says there were only dog tracks on the ground and the pigs have bite marks that match the dog's teeth.
He says when cougars attack their prey they take it with them and burry it for later. The carcasses of the pigs were left to lay near the property.
Officer Kerry McLerran, who took the initial call from Fish and Wildlife says it's likely a dog attack, but they are getting many calls at the office with not only concerned residents but also sightings.
"Also there is naturally an increase, in reports of cougar sightings. The majority of these sightings, probably 90 percent of them turn out to be unfounded," says McLerran.
The employees at Mid Valley Mill disagree and are staying vigilant. Carpenter says, people who work near by have personally seen the animal prowling around Prosser and the way the pigs were killed couldn't have been a dog.
They are staying armed, and still have their game camera running. He also tells me a cougar feeds every three to four days, so they are expecting him to come back tonight or tomorrow.