Police show us morning car thefts are crimes of opportunity
Posted:
Updated: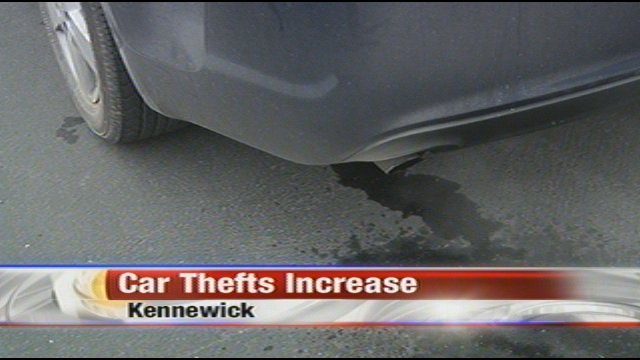 KENNEWICK, Wash. -- Police show us morning car thefts are crimes of opportunity. Within the first 10 minutes of a ride-along with Kennewick Police, we saw 6 cars that were left running with no driver.
Sgt. Ken Lattin explains these crimes happen all the time, and even though some people may be away from their car for a few minutes. It's just enough time for a thief to steal someone's car. Lattin says "they stop. They partner with the passenger and the suspect of the vehicle, gets out and jumps in this car and off they go."
We saw dozens of cars running with the keys inside, and no passenger in sight. Richland Police Captain Mike Cobb says "it is a crime of opportunity. A lot of people do leave their vehicles running unattended in the morning when they're warming up and suspects and vehicle thefts take that as basically an invitation to take your car."
These kind of thefts commonly happen at mini-marts, on the streets and in neighborhood driveways. In the winter months there is an increase in car thefts because the cold air makes it easy to spot the exhaust coming from a car. Sgt. Ken Lattin says "it's definitely weather sensitive. We'll see it in the summer time, people want their cars to cool off. But winter in particular it becomes very easy for the thief."
Captain Cobb says "it's just starting and we're going to take numbers that are already relatively high for the Tri-Cities area on vehicle theft and we're going to make that increase exponentially."
No neighborhoods are immune to auto thefts. If people leave their cars running outside, they could get a ticket from police ranging from $66 to $250.
The count of auto thefts in Tri-Cities is more than 500 between Pasco, Richland and Kennewick.