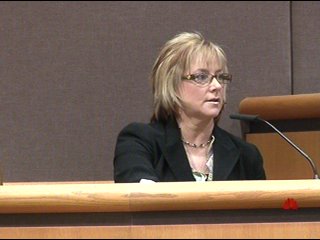 KENNEWICK, Wash. - The Director of Communication, for the Department of Corrections, Chad Lewis says Lusk left Benton County without permission from her probation officer to attend a high school swim meet at Central Washington University in Ellensburg on Oct. 28th and 29th.
He says that violated three terms of her probation; leaving Benton County without permission, having contact with children under the age of 16, and entering a school. She was arrested Monday afternoon in Prosser.
"Miss Lusk refused to report to her community corrections officers. So we had two DOC officers and a Benton County Sheriff's Deputy go to the business that she owned in Prosser and we arrested her," says Lewis
Lusk was convicted of third degree child molestation back in July and was ordered to serve three months on work release. She has completed her sentence.
Any violation of probation leaves her without the possibility of posting bail, so she must remain in jail until appearing at a DOC hearing.
That hearing is scheduled for November 21, 2011.
If the decide she indeed violated terms of her supervision, her punishment can range. It may be minor, like additional treatment, or she can get more jail time. Anywhere from 30 to 90 days in jail.