Local gun show brings out protesters
Posted:
Updated: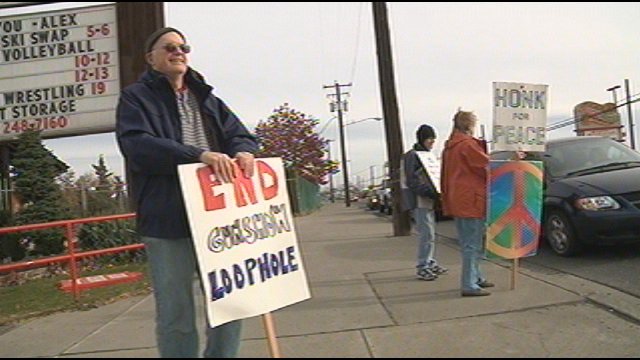 YAKIMA, Wash.-- Gun control is a hot topic for many people across the country including in Yakima. This weekend a gun show in Yakima was the focus of protestors saying they demand change in state gun sale laws.
Thousands of people made there way through Yakima's gun show, some browsing, others buying some of the hundreds of guns up for sale at the Fairgrounds.
But not everyone was excited for the show.
Protestors gathered Sunday on the second day of the gun show not protesting against owning guns, but rather a loophole in state law.
"What we're specifically protesting is the no background check sale of guns at the gun show," said Michael Collins of the Yakima Valley Peace Advocate Network.
That's what Collins says is a loophole in gun laws. Private sellers selling their personal guns at these shows without doing background checks.

"The general public has the right to dispose of firearms, and they can put an ad in the paper and they can sell them without a background check," said Brian Kjensmo, the gun show's promoter.
Kjensmo says that's the law, and he's just following it.
"It's just the way the law reads. Private sales do not require any kind of background check," said Kjensmo.
And protestors say they know that. It's not the gun show or gun ownership that they have a problem with, rather that anyone can buy a gun at this show without a background check.
"The loophole has got to be closed. People can come in and get all sorts of things including assault weapons... No background checks," said Carole Sahlstreand of the Yakima Valley Peace Advocate Network.
Kjensmo says that any seller at his show who is a licensed dealer must perform the required check, and all others are asked to sell responsibly.
"We encourage all of our vendors at a show to make sure that they are a resident of the state of Washington, they have a proper ID," said Kjensmo.
But as long as the law doesn't require private sellers to do background checks, shows like this one will go on selling to whoever has the cash.