Fire at mill site has the city stepping in
Posted:
Updated: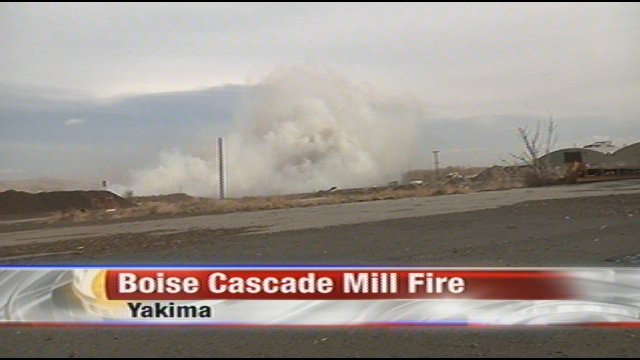 YAKIMA, Wash.-- The fire at the old Boise Cascade Mill site Sunday was just another notch on the belt for the site which is now mostly unused.

But now the city's fed up with site and tired of paying to put out the fires, so they're telling the owners to fix the problem.
Sunday's fire comes just days after Yakima City's Acting Code Manager and Fire Marshal Joe Caruso outlined huge leaps in safety at the mill site.

But Monday while touring the facility, he says more changes will have to be made.
"Fires to these magnitudes, smoke, loss of power, it's causing problems to the public and that's when we step in to try and alleviate what's going on," said Caruso.
The fire was caused by spontaneous heating of mulch piles.
It took crews from 7 districts, more than 3 hours to put it out.
"We're just hoping to put a few more safeguards in place so that we can prevent this from occurring," said Capt. Brandon Dorenbush with the Yakima Fire Dept.
In 2009, Caruso shut down the wood chipping operation due to fire safety issues, which were eventually resolved.

He say's he's not yet looking at enforcing a city mandate on Dunollie Enterprises, who now own the site. Rather they're working with them to figure out a way to keep people in the area safe.
"As we speak they're working on a new stepped up plan to address the securing of the mulch," said Caruso.
YFD says they've seen 10 to 12 fires at the site over the years and say there's about a million yards of mulch that can flare up at any time.
During Sunday's fire people in the area said that sort of thing is not out of the ordinary, and it's pretty scary to live close by.
"I'm scared cause my family. I have 3 girls here at home and my wife," said Tidurcio Lara who lives nearby.
The owners of the site are working with the city to fix the problem, but Caruso says if they're not able to outline a usable plan, then the city might have to do it for them.