Parole officers point to violators as reason why not to cut jobs
Posted:
Updated: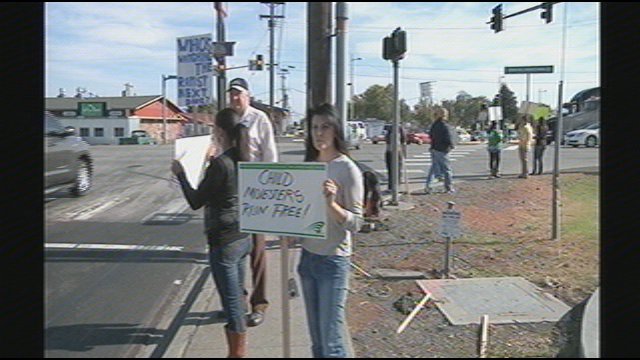 PASCO, Wash. -- Sex offenders, gang members, and mentally disabled criminals on parole are supervised by probation officers. But state budget cuts could eliminate their positions.
Last month, state parole officers stood on corners to protest proposed budget cuts that would eliminate their jobs.
"Community safety would be unfortunately, it would be a tragic impact," says community corrections officer Shallon Sanders.
Sanders tracks criminals on parole every day in Franklin county. Sometimes those people violate their parole. And often the violators are high risk criminals, "10 minutes ago in this office, we arrested a level 3 sex offender who did not abide by his GPS boundaries so he was trying to go to places that he was not allowed to be," explains Sanders.
These are examples parole officers use to stress why their jobs shouldn't be eliminated to balance a $2 billion dollar budget.
Currently, in five counties in Central and Southeastern Washington there are over sixteen hundred offenders being supervised.
Across the state, there are 16 thousand people under supervision. Over a 12 hundred were arrested for violations this past October. This same time last month, there were nearly a thousand arrests.
DOC says jail is one option, but they're looking at treatment programs and other classes to prevent locking offenders back up, "It's a strategic move that we're trying to shift away from a model that focuses on confinement and more on evidence based programs that research shows does more to impact offender behavior," says Chad Lewis with the Washington Department of Corrections.
"I happen to know 2 people that have gone through school, in the criminal justice system. One was a parole officer, they can't find work right now," explains Larry Nash of Richland who's concerned about public safety if parole officers are eliminated.
Sanders says public awareness is what's going to save her job, "I think there's a lack of education piece out in the community that is hurting in the efforts right now."
The legislature will meet in a special session on November 28th to discuss budget proposals.