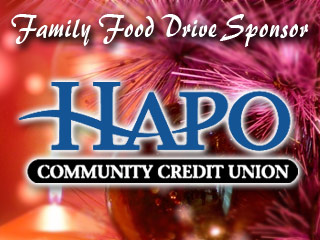 HAPO Credit Union wants you to help provide nutritious meals to hungry people in our community. Between now and December 5th bring your canned food to the Yakima, Yakima-Terrace Heights, Yakima-Nob Hill, or Sunnyside locations. All proceeds benefit Northwest Harvest.
Donation Location's:
Nob Hill
6401 W. Nob Hill Blvd
Yakima, WA 98907
Yakima
903 Seattle Slew Run
Yakima, WA 98908
Terrace Heights
3001 Stonewood Court
Yakima, WA 98901
Sunnyside
322 South 6th Street
Sunnyside, WA 98944

Food and money can also be donated at the KNDO Family Food Drive on December 7th from 8am to noon at the KNDO-TV Studios at 216 W. Yakima Ave. in Yakima.