Record breaking Black Friday sales weekend
Posted:
Updated: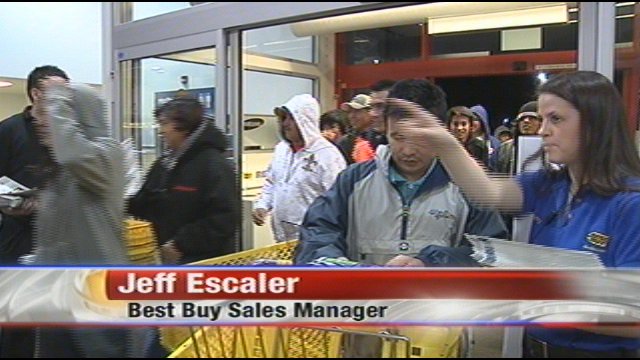 KENNEWICK, Wash. -- A record 226 million shoppers visited stores and websites over Black Friday weekend, up from 212 million last year, according to the National Retail Federation. The average holiday shopper spent $398.62 this weekend, up from $365.34 last year. Total spending reached an estimated $52.4 billion. Shoppers also checked out retailers' deals online, spending an average of $150.53 on the web - 37.8 percent of their total weekend spending.
Barbara Johnson, the Columbia Center Mall Manager says this year was a record breaking for them as well. "Based on the retailers that I talked to, most of them had told me, Friday was the biggest day they've ever had while they were in retail at Columbia Center," says Johnson.
Johnson says the official numbers will not be in until December but it was a big jump from last year. Mostly because 30 stores in the mall opened at midnight, including Old Navy, and Macy's, which traditionally opened at 5:00am. "This year was much better because the weather was more accommodating and people could actually get out. And again I think the sheer number of retailers who opened up at midnight, all opened up at midnight," says Johnson.
She says the crowds started rolling in around 11:30pm. Toys R Us opened up at 9:00pm and had a long line wrapping the store by 10:30pm.
Best Buy also reported having one of their best years due to the midnight sale. "We started having our line Tuesday night at midnight. We definitely had a lot of people who put in their time to get the things that they wanted," says Jeff Escaler, the Sales Manager at the Kennewick Best Buy.
The big thing everyone shopped for this year was electronics. Stores like Target and Best Buy concentrated on advertising the door busters, mostly TV's and lap tops and video game consols.
At the mall, home goods, such as coffee makers, toaster ovens were the biggest sellers.