POPP Cold Nose Pet Food Drive
Posted:
Updated: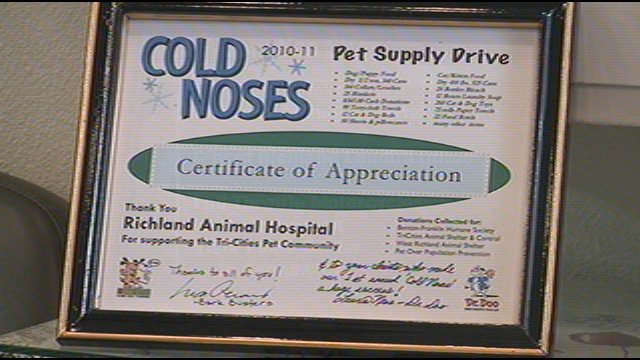 TRI-CITIES, WA. -- Pet Over Population Prevention has started the Cold Nose Pet Food Drive. But instead of the donations just being seasonal, they plan to make them ongoing throughout the year.
They're hoping this drive could be the start to a Pet Food Bank. Donations will be going to families fostering POPP pets, as well as families who can't afford to feed their pets due to financial issues. POPP says one of the biggest reasons people abandon their pets is animal expenses... and it doesn't stop at food.
Molli Van Dorn, the president and founder of POPP, told us what the drive is asking for. She said "food that they need, leashes collars, anything that anybody would buy their own pet, we'd be happy to have... Our pets would be happy to have."
If you'd like to donate, there are multiple drop off points throughout the Tri-Cities. During their regular business hours, you can go to The Richland Animal Hospital on Van Giesen in Richland, the City of Richland Landfill Office, Full Throttle Motorcycles on Vista Way in Kennewick, and the Vista Paine Center on Grandridge in Kennewick.
POPP's Office is open for donations on Saturdays from 11 a.m. To 4 p.m. They're located at 524-B Railroad Street in Richland.
For more information, head to www.popptricities.org