Businesses help raise money for autism center
Posted:
Updated: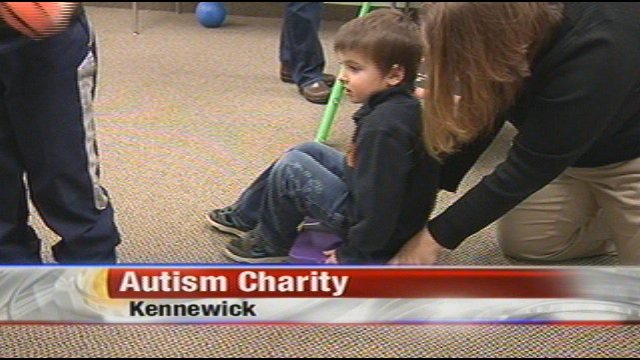 KENNEWICK, Wash.--Businesses help raise money for autism center. Several organizations in the area are stepping up to raise money for scholarships and workshops that will go toward disabled children and their families.
More than 16 businesses have volunteered to help out the Responding to Autism Center and Carson Kolzig Foundation. They're raising money for support services and scholarships for families who have autistic children.
We're told there's been a growing rate of autistic children in America. Right now more than 1.5 million Americans suffer from the disorder, and more than 24,000 children are born with it every year. Care for children with autism is very expensive. RTA Center Director Christine Lindgren says "a lot of the times it can cost up to $70-80,000 a year or more to receive autism therapies."
This holiday season businesses are selling puzzle-tree ornaments for donations. The money goes to the autism center to pay for scholarships and programs for people who cannot afford care for their children. Lindgren says "every single puzzle piece bought goes to support autism programs for families in the Tri-Cities."
The money will go towards therapy, group workshops, social skills classes and other family services. Businesses are collecting donations for the autism center through the end of December.
Bombshellz Espresso Owner Carly Eliason says "it's actually pretty cool. We're really happy to be able to give back to our community and also to raise awareness to people because a lot of times, just the average person doesn't know these services are even available to them." Heatherstone Apartments Manager Shannon Grant says "they need the help because sometimes they're awkward around people and so that's what this center does is helps these children become socialized."
Autism is a growing problem. According to the Autism Speaks Organization 1/110 children in the U.S. are diagnosed as autistic, and 1/70 of those children are boys.
If you would like to help out, businesses accepting donations for the Responding to Autism Center are: Archibald's in Kennewick, Barracuda Cafe in Richland, Broadmoor Fitness in Pasco, Bombshellz in Richland, Hansen Park Fitness in Kennewick, Heritage Nursery in Kennewick, C. Speck Motors in Sunnyside, Hall Chevrolet in Prosser, Speck Hyundai in Pasco, Columbia Basin Racquet Club in Richland, Cheese Louise in Richland, Eden Day Spa in Richland, Pacific Steel in Pasco, Heatherstone Apartments in Kennewick, Tri-City Americans in Kennewick and Yoplicity in Kennewick.