The minimum wage increase could hurt businesses
Posted:
Updated: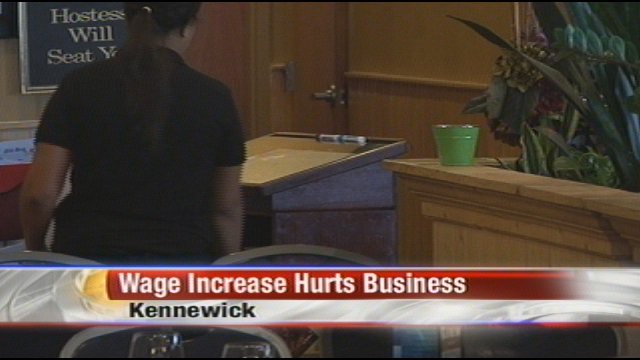 KENNEWICK, Wash.--The minimum wage increase could hurt businesses. Many people are happy about the minimum wage increase coming in 2012, but some business owners say the increase will hurt business.
They say the $.37 increase comes at a really bad time. It's one of the largest wage increases the state has had. Minimum wage will rise to $9.04 an hour starting on New Year's day. Business owners say the economy isn't good enough for this raise. Some restaurants have already taken the wage increase in account and have already made changes.
Back in September, we spoke to the owner of the Country Gentleman about the increase, and we went back there to see if he's ready. Owner Steve Simmons says "I'm sure that every restaurant in town has done this. we've had to examine our prices. We've had to examine out schedules."
We're told that even though it's just $.37 the costs for business owners will add up fast, even up to several hundred dollars more per employee every year.
Pasco Chamber of Commerce Director Colin Hastings says the wage increase is not good."It just adds more costs to businesses for business owners. It creates more uncertainty and generally leads to less people getting hired." said Hastings. To make cuts some places are having to reduce the amount of hours an employee can work.
One recommendation restaurants made was for the government is to consider a lower 'teen training' wage. To help offset the costs of the current wage increase.