Biggest Loser Winner and Kennewick native talks about his weight loss
Posted:
Updated: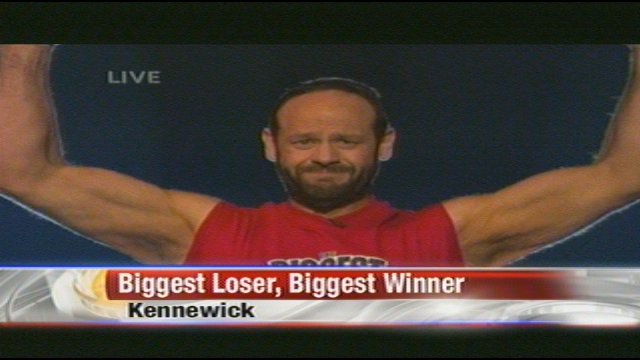 KENNEWICK, Wash. -- There's no question NBC's Season 12 Biggest Loser John Rhode is a winner. The Kennewick native and his mom visited NBC Right Now to talk about what drove a once 445 pound man to go on national TV
" For me, I was so desperate, I was willing to just bare it all literally. Before that, I wore a shirt swimming, I wore a shirt to the beach,. So for me, being willing to take my shirt off and be on national TV is how desperate I was," says Rhodes.
Desperation is what drove John to work out six to eight hours a day at the Ranch to drop literally half his weight, 220 pounds in six months.
He says, people at home shouldn't take the show too seriously. When NBC Right Now reporter Lisa Loevsky asked him how feasible it is to lose so much weight in just six months, he responded with, "It's not and they shouldn't ever think that its feasible. It's for reality TV. It's extreme. Its insane," Rhodes says, "I love what I did and I'd do it again but for the people at home. what they might want to do is to lose weight at a slower pace."
Rhodes says the more gradual the weight loss, the more likely it is to stay off. NBC Right Now viewers also asked John some questions on Facebook,like what he eats to stay healthy
He says, " For me, I eat the same thing every day when I'm in my routine. I like egg whites, a little bit of cheese and salsa. Greek yogurt with berries, cinnamon, a little bit of Stevia based sweetener. I like chicken breast, greens and white fish. That's my daily grind, that's what I eat."
But Rhodes also splurges a bit once a week. " When I have a high calorie day, it's all about pizza and wings. Even though it's a high calorie day. it's not limitless. I look at my caloric intake and burn as like a checking account. I burn this many calories, I get to take in this many calories," says Rhodes.
The biggest change in John however is not physical but mental. He said he started putting on weight right after college when he finished playing football but continued to eat like an athlete. ."Then life happens, you run into maybe some heartbreak, misery and then instead of dealing with it, you turn to food. It just seemed so much easier to eat something and get your emotions out," says Rhodes of his weight gain.
He said, he's now a whole new person physically and mentally. "The whole thing was 100% mental. You need mental focus to do all the things we did. My relationship with food I had to completely negotiate, and I do that mentally. I talk myself through things when I crave things, Do I need that? Why am I craving that?," says Rhodes.

Not only did John lose weight, he also won a quarter of a million dollars.
He says besides his family, his biggest accomplishment is running a marathon in October and finishing third as well as climbing a mile on the obstacle course Jacob's Ladder in less than an hour and a half.