Governor Gregoire delivers final State of State address
Posted:
Updated: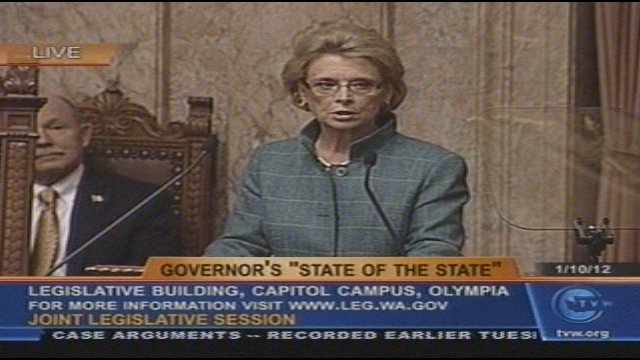 OLYMPIA, Wash. -- An optimistic Governor Gregoire delivered her final state of the state Tuesday morning asking lawmakers for five basics, to pass the budget, send a temporary sales tax increase to voters, reform education, invest in transportation and approve marriage equality.
"We must protect our vulnerable seniors and the developmentally disabled. we have to educate our students and provide public safety for our families, so I ask you to send to voters a temporary three year half cent sales tax to save those vital services," said Gregoire.
During the Republic Response, Senator Joseph Zarelli, from the 18th District said, "I oppose the governor's proposal to increase the sales tax by half a billion dollars. partly because it is a temporary fix that does nothing to improve our budget sustainability, but also because there are other places to reform our tax code."

Gregoire also made a plea for education reform and for lawmakers to reinvest in our ferries, bridges and roads. "I propose a 3.6 billion dollar 10 year package to create about 5500 jobs a year to maintain our transportation infrastructure across the state. in addition to small fee increases, I will ask you to pass a modest, $1.50 fee on every barrel of oil produced in Washington. our oil companies are making all the profits and leaving us with the bill we can do better," said the Governor.

Governor Gregoire's final request today centered on values. She said "Our Washington has always fought discrimination, and it is time for us to do it again by passing marriage equality."