N Reactor guard tower demolished
Posted:
Updated: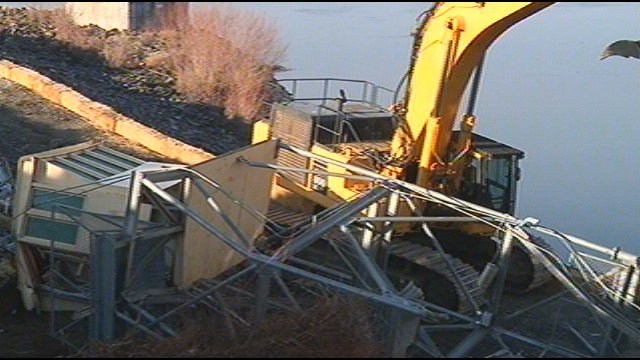 An iconic symbol of the Cold War is now in bits and pieces. A security guard tower at the N Reactor on the Hanford Site was demolished Wednesday. This marks a step in the shut down of the last of the nine plutonium production reactors on the Hanford Site.
"It was unbolted if you will and cables put on it, and we used a machine to tip it over and pull it down right where you see it being sheered up today," says Gary Snow, Director of deactivation and demolition for Washington Closure.
The security guard tower was wrapped with bullet-resistant steel plating and had one inch thick bullet-resistant glass. Two past guards went to the site to see what is left and to remember past experiences while in the tower.
"It was a great job. The scenery was great out here, got to see a lot of wild life," says Joe Rodriquez, former guard.
"I watched 23 head of elk swim right across the river and come up on this side. Up until then I did not know elk could swim," says Terry Henry, former guard.
The tower symbolized Hanford's mission to produce plutonium for America's Defense Program, but the demolition is a sign of the cleanup progress.
The N Reactor operated from 1963 to 1987. It was the only reactor to produce plutonium and electricity. It is now 95% cocooned.