Frozen lakes and ponds create a big danger
Posted:
Updated: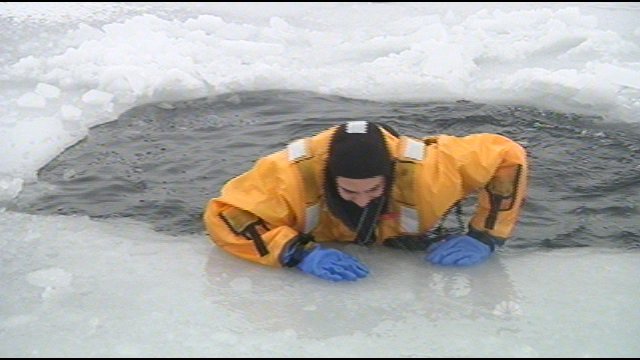 YAKIMA, Wash.-- Falling through the ice is a scary thought for anyone during the winter time, and although it doesn't happen often, when it does, the danger is very real.
Crews with the Yakima Fire Department and Yakima Training Center were at Myron Lake, in Yakima Tuesday to show just how dangerous it can be.
"As winter progresses the weather fluctuates, so when it fluctuates it gets warm, it gets cold, it gets warm, it gets cold, and a lot of times looks can be deceiving," said Capt. Brandon Dorenbush with the Yakima Fire Dept.
Crews say ice less than two inches thick is extremely dangerous and can easily crack and break, creating a life or death situation.
The water at Myron Lake is somewhere in between 30 and 40 degrees and once you fall in you only have about 10 minutes to get yourself out before your muscles completely shut down. And on the slick ice, it's not an easy thing to do.
"If we have a patient in the hole usually, hopefully they're going to be awake and have their arms over top the water, and we're going to be approach them and talk to them, calm them down," said Capt. Jamie Van Iterson with the Yakima Training Center.
Captain Van Iterson says in the first minute of being in the water, your body goes into panic mode, and if you don't make it out in the next 10 minutes, he says to lay your arms on the ice, to freeze yourself above water in case you pass out. At that point crews only have another hour to rescue you before the worst becomes a reality.
"That golden hour is the timeline for us to be able to get them out of the water and into a better environment," said Capt. Dorenbush.
Crews wear special buoyancy suits that not only keep them warm, but also makes them about 30 pounds lighter, so they can float during the save.

Regular winter clothing actually adds about 30 pounds of weight to someone, which makes pulling yourself out, pretty hard.
Crews say what's most important is that people use common sense, if the ice seems unsafe, stay off.
"We don't recommend that people go on the ice, just for the shear factor that we don't know how thick that ice is and whose been on it before you and just play it safe," said Capt. Dorenbush.