Girl who is deaf trains to be a horse jockey
Posted:
Updated: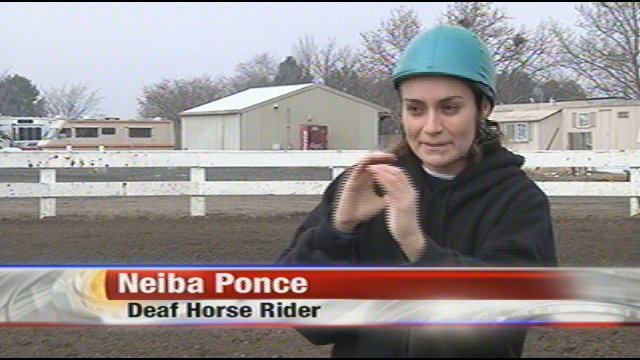 KENNEWICK, Wash.—We all face challenges but when it comes down to it, what matters is how we handle them. NBC Right Now met with one woman who is not letting her barrier stand in the way of her dream.
23-year-old Neiba Ponce is deaf but working toward becoming a horse jockey. This is a very challenging goal when she cannot even hear her trainer.
Neiba wanted to become a horse jockey after she watched riders on television as a child. She spoke with many instructors who told her she would never be able to fulfill her dream because of her disability. She is now proving them wrong.
Ten months ago she met Bob and Kim Lawrence with the Sundowns Training Center. Neither Bob nor Kim knew or know how to sign but have found a way to communicate.
"We would start to write back and forth and start to gesture and that's how we would communicate," says Neiba Ponce, deaf horse rider.
"Lots of charades. When we play charades at home I'm the world champion," says Bob Lawrence, Neiba's trainer and owner of Sundowns Training Center.
Lawrence says Neiba must keep eye contact with him or they cannot communicate. However, Neiba isn't letting it take her eyes of her goal.
"I want to encourage deaf people if they want to become jockeys or if they want to become other things that they have that opportunity that the deaf can do things, don't accept no, and don't accept never," says Ponce.
Bob Lawrence also offers lessons, boarding for horses, and a place to ride your horse. Every Friday night they have "Friday Night Lights" barrel racing at 7pm at the Sundowns Training Center in Kennewick. The event is free. If you're interested, contact Bob Lawrence at 727-7132.