Franklin County Public Works accountant believed to have stolen more than $1 million
Posted:
Updated: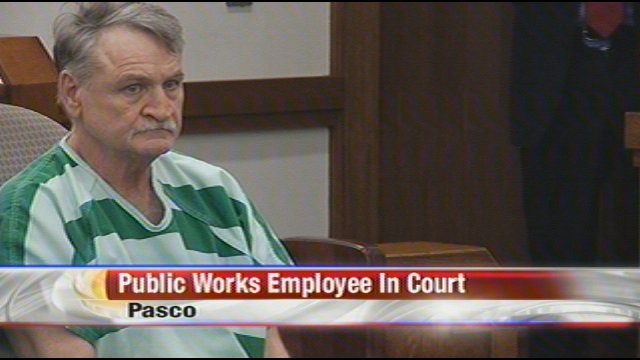 PASCO, Wash. --A Franklin County public works employee accused of stealing money and buying drugs appeared in court Friday afternoon. 65 year old Dennis Huston has worked as the Director of Accounting and Administration for the Franklin County Public Works Department for more than 20 years.
Probable Cause documents say Huston has been generating fraudulent invoices and presenting them for payment for parts and services from a company called Critizer Equipment. They say the company has actually been closed since 2001."Checks have been written on that account, deposited into that account that was maintained by the defendant," says Shawn Sant the Franklin County Prosecutor who stepped in for the State General's Attorney's office Friday. From this point forward, the GA's office will be handing the criminal investigation to ensure there is no conflict of interest in investigating a county employee.
Sant say, investigators believe Huston has taken more than a million dollars in the course of ten years and the money went to buy cocaine. Judge Carrie Runge set the bail at $500,000 for the 65 year old. He's facing money laundering, first degree theft, and possession of cocaine charges, but the GA will determine exactly how to charge Huston next week.
"Because it does involve a substantial amount of money, and the investigation is ongoing, we don't know where those assets are. the person could have access to those funds and based on a lot of criteria, we don't want to have someone flee the area," says Sant about the high bail request.
Sant also says this is Huston's second investigation. The first incident stemmed from a theft of government money investigation in Montana in 1987.
The discovery was made earlier this week during an internal audit. Eight other public works employees are on paid administrative leave until further notice.
"That in no way reflects suspicion or guilt or anything else. That's merely something we do as a county to open up office space, to clear up places we may want to go in, and to look at records or work practices or any number of reasons. It bears no reflection for the people on administrative leave," says Brad Peck, the Franklin County Commission Chair.
"Many of the employees have been obviously affected and surprised by this. this was a colleague and I think there was really a lot of shock.," says Sant.
Sant says there are three concurrent investigations going on; an internal one by the Franklin County prosecutor's office looking into employees., another by the state auditor, and the main criminal investigation conducted by the attorney general's office.
In the mean time, an engineer from Benton County will be stepping up and help with the work load at Franklin County.